About C.R.I. Sewage & Drainage Pumps
C.R.I. Sewage & Drainage Pumps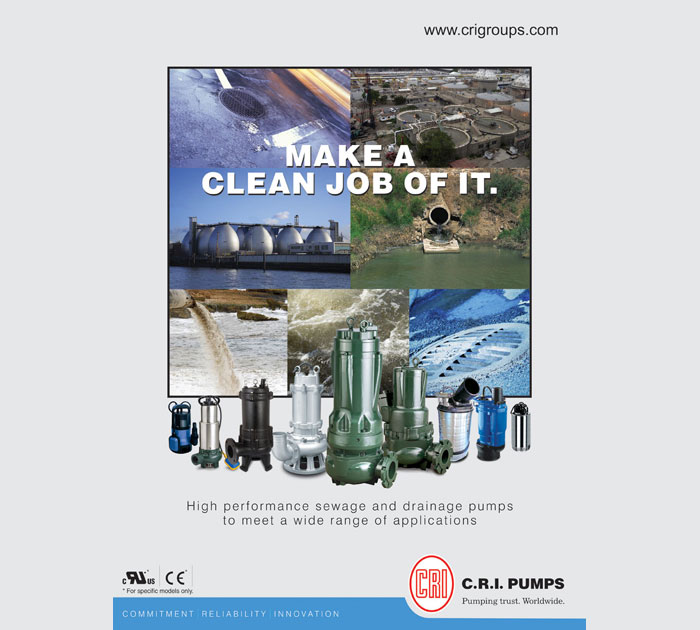 C.R.I waste water submersible pumps:- with the excellence gained in pump technology over the period of 50 years C.R.I. has introduced highly efficient and reliable sewage & drainage pumps in comprehensive ranges. These pumps are available with different materials of construction and feature a multitude of applications in waste water handling and treatments. C.R.I Sewage and Drainage pumps are perfectly powered by motors designed to deliver optimal performance and to withstand weather and power fluctuations.

Besides expanding its portfolio, C.R.I. is firmly committed to contribute a vital role in creating a more pleasant an affluent living condition worldwide, which is one among its ambitious goal.

Salient Features:
Energy Efficient Copper Wound Motors / Heavy duty bearings / Tailor made designs / Easy and Cost effective serviceability / Multi Impeller Design / Wide Range for multiple applications.

Specifications:
Power Range: 0.37 kW to 37 kW
Flow Range upto: 600 m3/h
Head Range upto: 60 m
Impeller Types: Vortex / Channel Impellers – Semi Open & Closed / Single, Double & Multi Channel Impellers.
Solid Handling Capacity Upto: 100 mm
IP protection: IP 68
pH value: 4 to 10

Applications:
Hotels, Houses , Commercial Buildings and Complexes / Industries / Tunnels and Mines / Stock farms & manhole sewers / Sewage Treatment Plants / Municipal Sewage Systems / Septic Tanks / Leather Factories.
22 13 00 - Facility Sanitary Sewerage
33 44 00 - Stormwater Utility Equipment