About Isone Motorized Fire, Smoke & Heat Dampers
Brochures

Isone Motorized Fire, Smoke & Heat Dampers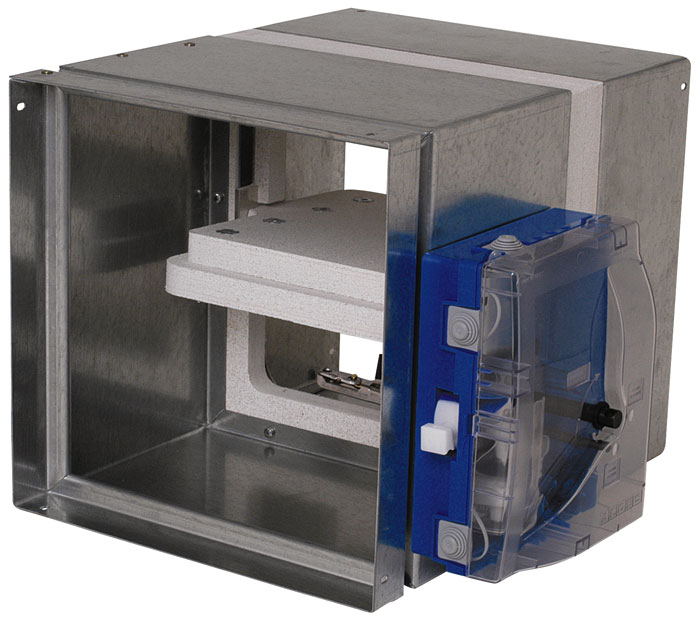 Motorized fire, smoke & heat dampers (ISONE) with 2 hours fire rating are installed in 2 hours fire rated fire separating walls and structural slabs to prevent fire, smoke and heat spreading from one fire compartment to another through the HVAC ductwork system & return air openings in ceilings.

ISONE fire, smoke & heat dampers have been tested for Integrity, Insulation and leakage "EIS method" for 2 hours at 500Pa as per EN1366-2 and meets the requirements as per UAE Fire Code for sensitive buildings with sleeping risk & buildings with habitable height of more than 21 metres.

Frame and blade of the ISONE dampers are constructed with 50mm thick fire resistant calcium silicate material and are asbestos free and ensure no heat transfer on the unexposed side of damper. Blade is maintained by two shafts constructed in steel with dia. 10mm and length 340mm, hanged in bronze bearings with outside dia. 20mm. ISONE dampers are constructed with a factory mounted GI sleeve with a thickness of 1.5mm. ISONE dampers are also equipped with intumescent seal for maintaining air tightness at elevated temperatures.

ISONE dampers controls are equipped with signaling contacts mounted on card-type printed circuit board. ISONE dampers are equipped with unpluggable terminals for easier electrical connections at site. ISONE dampers are equipped with an electromagnetic tripping coil operating that requires no power consumption to keep the blade in open position. Hence it provides huge amount of energy saving as compared to normal motorized fire dampers that requires continuous supply of power to keep the blades in open position. All these components are clipped into an IP42 box with a transparent cover. ISONE damper is also equipped with manual resetting lever, accessible without removing the mechanism cover, in order to test the opening / closing of ISONE damper on the damper itself.

Access doors shall be provided in the duct for maintenance and inspection of the motorized fire, smoke and heat dampers.

23 30 00 - HVAC Air Distribution
23 33 00 - Air Duct Accessories
23 51 00 - Breechings, Chimneys, and Stacks