Advanced Terminal Block Marking
New and perfectly attuned to one another: Smartprinter, the thermal transfer printer for a wide variety of materials, and Mini-WSB Inline, the industry's smallest printable markers on a roll.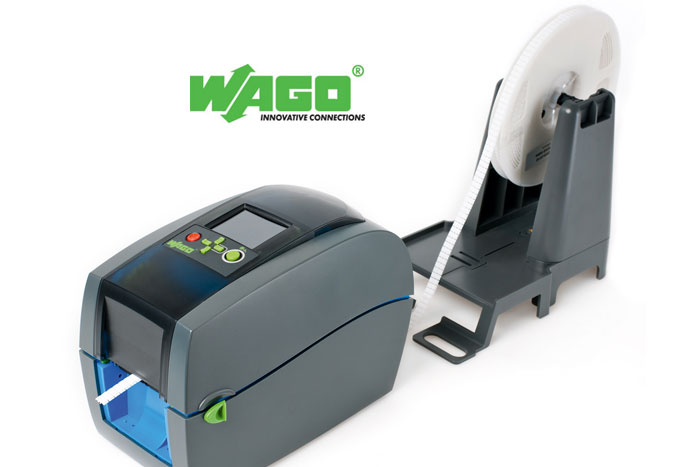 The Smartprinter thermal transfer printer is compact and robust and can handle a wide variety of printer materials including the Mini-WSB Inline.
The Smartprinter, which will be available now in the Middle East region, is a versatile thermal transfer printer in WAGO's marking portfolio. Even with its especially compact design, it can handle a wide variety of different materials: marking strips, "WMB Inline" markers from the roll, labels, as well as conductor and wire markers. Thus, it is possible to mark all WAGO terminal blocks and connected conductors/cables with a single device. The Smartprinter's print is clear, resistant to environmental influences, as well as wipe- and scratch-proof according to DIN EN 60068. The color display and intuitive menu guidance assist the user during installation and use.
To suit the new Smartprinter, there is also a new member of the marker family: Mini-WSB Inline. These 5 mm wide markers can now be printed directly from the roll – and they can therefore also be snapped on as connected strips. The decisive advantages of Mini-WSB Inline are the ability to create individual markers easily and also their universal applicability: on the one hand, Mini-WSB Inline markers are used on all WAGO-I/O-SYSTEM bus modules and, on the other hand, they can be used for nearly all rail-mounted terminal block and connector lines, especially X-COM, X-COM® S and TOPJOB® S.
From planning software to marking materials to printer hardware, WAGO offers a wide range of solutions for labeling rail-mounted and PCB terminal blocks, as well as automation components.