'IEC 61850 Conformance': TÜV Süd Certifies WAGO Controller
Guaranteed interoperability: TÜV Süd certifies WAGO's telecontroller (750-880/025-001) for conformity to the IEC 61850 communications standard.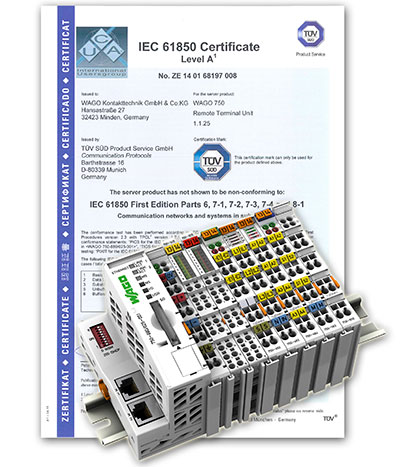 The WAGO telecontroller (750-880/025-001) was awarded the "IEC 61850 Conformance" certificate by TÜV Süd in January 2014. This confirms that the controller fulfills the requirements for the internationally recognized communications standard for protection and instrumentation and control systems in electrical switching systems. What this means for WAGO customers: Interoperability between the WAGO telecontroller and other communications subscribers is guaranteed at all times. The result is high availability in the most varying applications, such as for monitoring of transformer stations, implementing of power feed-in management for EEG systems or controlling virtual power plants.

Besides the IEC 61850, WAGO telecontrollers also support the telecontrol protocol based on IEC 60870-5-101/-103/-104. This makes a standardized and easily usable interface available as a whole to the user for providing communication with the control station. A configuration interface is integrated into the CODESYS development environment for this for each of the two telecontrol protocols. This does away with the need for relatively complicated programming for the user, as the entire IEC communication can be parameterized.

The WAGO-I/O SYSTEM 750
The fieldbus-independent WAGO-I/O-SYSTEM 750 is approved for a wide variety of applications. Featuring finely modular components, the WAGO-I/O-SYSTEM meets all the requirements for distributed fieldbus systems. Depending on the application, it is possible to choose between fieldbus couplers and controllers (PLC) for different protocols. With 400+ digital, analog and specialty I/O modules, the WAGO-I/O-SYSTEM 750 offers scalable performance and high integration density with an unbeatable price/performance ratio.
Categories:
26 00 00 - Electrical