All you need to know about the Lindner 'FLOOR and more' floor system
In a market populated by a multitude of floor systems the choice for the correct type ticking all the boxes in your project requirements is sometimes difficult.

The FLOOR and more® hollow floor system offers impressive features and state-of-the-art technology. The system is formed by gluing a pedestal substructure to panels made of calcium sulphate and allows for a particularly quick installation, with a joint-less and perfectly smooth surface. As a result, the application of covering materials on site does not represent a problem, even when these have large or unusual shape modules.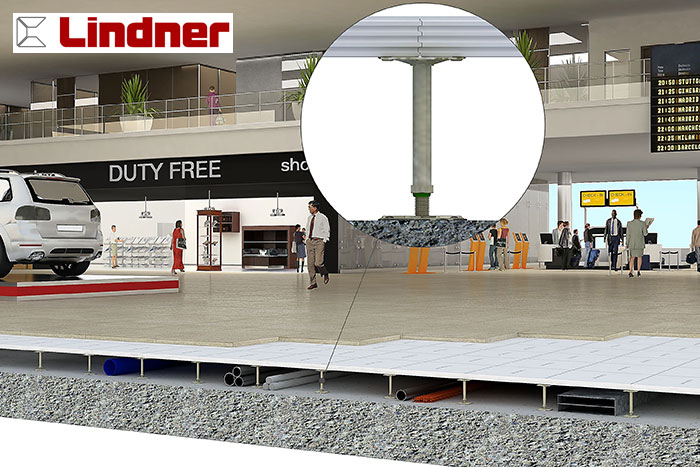 Lindner's calcium sulphate boasts superlative structural and physical properties: incombustible, exceptional load bearing capability, outstanding soundproofing and can be fully loaded after one day, unlike traditional screed or other wet construction systems – the ideal product for almost any field of application where tight deadlines must be met, or where reducing installation time represents considerable savings for the whole project.

Lindner's excellent quality is not left to chance, but is ensured by a sophisticated quality management system, demonstrated by our certification to ISO 9001:2000. In compliance with the specific environmental management of the Lindner Group, the company uses only ecologically tested and approved materials which could help gaining LEED and Estidama credits.

FLOOR and more® can be combined with many other Lindner systems, be these other raised floor types or demountable partitions, so offering utmost flexibility.

Typical areas of use:

Offices and design areas
Training and research rooms
Atriums and reception areas
Hotels and Apartments
Museums and Libraries
Theatres and Cinemas
Airports and Railway stations
Industrial and workshops applications
With a variety of additional functions, the floor system offers the appropriate solution for each usage.
FLOOR and more® acoustic
Specifically chosen materials and dimensions regulate the acoustics in the room.
FLOOR and more® arena
Especially engineered for tribunes and tiered floors construction with high load capacity, like in cinemas, concert and lecture halls.
FLOOR and more® comfort
Intelligent heating and cooling systems incorporated into the floor panels perfectly regulate the interior climate – both in summer and winter.
FLOOR and more® hydro
Uniquely developed for effectively prevent water absorption, the system finds its ideal application in wet rooms, ablution rooms, restrooms, kitchens and restaurants.
FLOOR and more® power
In foyers, manufacturing plants, museums and libraries, where the flooring system needs to withstand heavier loads.
FLOOR and more® sonic
Designed for a perfect indoor climate with air conveyed into the room via perforated floor panels.
Categories:
09 69 00 - Access Flooring