About Acoustic Double Glazed
Acoustic Double Glazed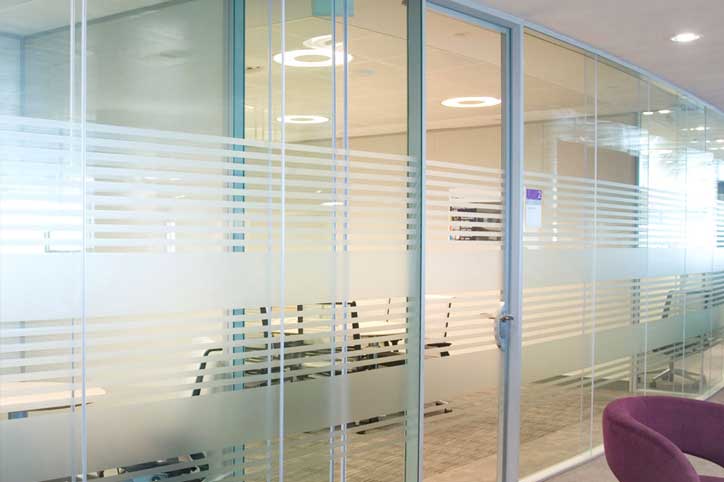 Acoustic Double Glazed Glass Swing Door
---
Double Glazed Acoustic Swing Doors fit seamlessly into the Solare™ Double Glazed, Elevare™ Stacking Double Glazed High Wall , Movare™ Movable Double Glazed or Transverto™ MonobIock Modular for superior sound resistance and style.
Tempered, laminated and low iron glazing is compatible with the door, and may be clear, patterned or have a custom graphic. The Double Glazed Acoustic Swing Door fits into straight or curved configurations. A pair of doors is also an option for wider entryways. Our handles, hinges, pivots, and closers are compatible with the Double Glazed Acoustic Swing Door. Available frame finishes include our standard polyester powder coated finish (RAL color choices), Brushed Finish and Stainless Steel Finish. Custom finishes are also available. Besides having an acoustic rating of up to 43dB, we offer the option of integrated blinds within the 1 1/8" air space between the glazing panels for privacy.
The Double Glazed Acoustic Swing Door is completely compatible with all of our systems which are fully demountable, which qualify for LEED credits.
Acoustic Performance : Up to 36 dB
Glazing: 3/16″ thick glass on each side (1 1/8″ air space between glass panels), custom glass configuration available upon request
Available Glazing Types: Clear Tempered, Low Iron, Laminated & LCD Privacy Glass
Standard Frame Finishes Available: Standard RAL 9006 and Clear Anodized. Custom Color Powder Coating Available
Available Hardware: Optional Integral Blinds, Free Swing & Self Closing Options, Locking Lever Handle, Standard Lever Handle, 4 1/2″ Hinges, Recessed Floor Closer, Offset Pivots

08 10 00 - Doors and Frames
08 11 00 - Metal Doors and Frames
08 13 00 - Metal Doors
08 16 00 - Composite Doors
08 30 00 - Specialty Doors and Frames
08 32 00 - Sliding Glass Doors
08 34 00 - Special Function Doors
08 35 00 - Folding Doors and Grilles
08 36 00 - Panel Doors
08 70 00 - Hardware
08 80 00 - Glazing
08 81 00 - Glass Glazing
08 88 00 - Special Function Glazing
10 22 00 - Partitions