About Barn Doors
Barn Doors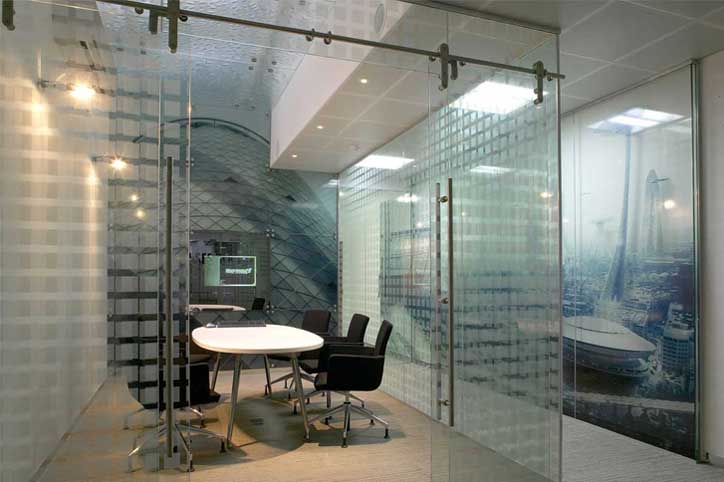 Eclipse™ Sliding Glass Barn Doors
---
The Barn Sliding Glass Door is our standard interior manual sliding glass door which can be integrated into the Solare™ Frameless, Elite™ Freestanding Partition System as well as a solid traditional wall to add a touch of modern style to any entryway.
The door accommodates tempered, laminated and low iron glazing, and can be clear or patterned or have a custom graphic. The Barn Sliding Glass Door fits into a straight or curved configuration. A pair of sliding doors is also an option for wider entries. The minimal 5/8" gap between the door and fixed panel reduces the risk of trapping fingers. Locking hardware is available.
The maximum height for the Barn Sliding Glass Door is 12'-0" and maximum panel width is 4'-0". The components of the sliding door system are of stainless steel which fit over countersunk fasteners.
The Barn Sliding Glass Door is completely compatible with all of our systems which are fully demountable, which qualify for LEED credits.
Highlights: Full Height Available & ADA Compliant
Glazing Available: 3/8″, 1/2″, 9/16″, 3/4″
Available Glazing Types: Clear Tempered, Low Iron, Laminated & LCD Privacy Glass
Standard Frame Finishes Available: Standard RAL 9006 and Clear Anodized. Custom Color Powder Coating Available
Available Hardware: Free Swing & Self Closing Options, Locking Lever Handle, Standard Lever Handle, 4 1/2″ Hinges, Recessed Floor Closer, Overhead Closer

08 10 00 - Doors and Frames
08 11 00 - Metal Doors and Frames
08 13 00 - Metal Doors
08 16 00 - Composite Doors
08 30 00 - Specialty Doors and Frames
08 32 00 - Sliding Glass Doors
08 34 00 - Special Function Doors
08 35 00 - Folding Doors and Grilles
08 36 00 - Panel Doors
08 70 00 - Hardware
08 80 00 - Glazing
08 81 00 - Glass Glazing
08 88 00 - Special Function Glazing
10 22 00 - Partitions