About C.R.I. Deep Well Submersible Pumps and Motors
Brochures

C.R.I. Deep Well Submersible Pumps and Motors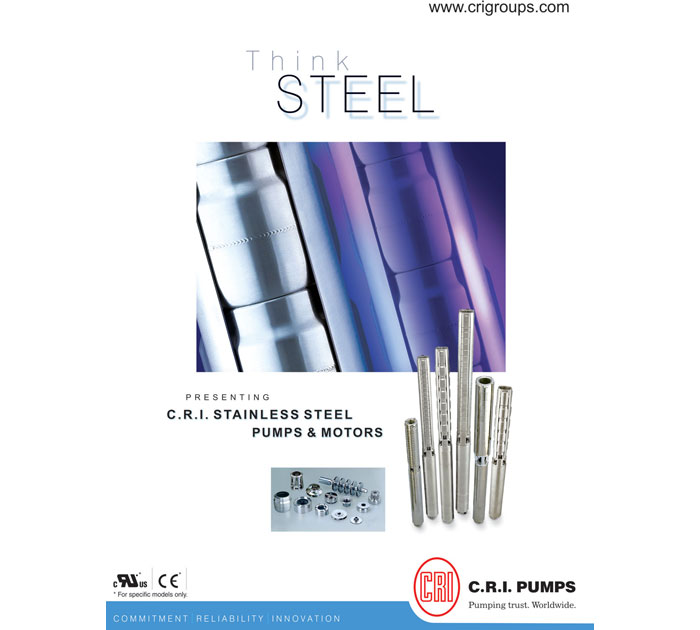 C.R.I. Stainless Steel Pumps are in a class of their own. The result of extensive R&D, these innovative pumps, feature by feature spells quality to give the kind of performances that you expect from a product from a company that is known for its prowess in design and technology. And, the fact that it's made of corrosion free stainless steel, virtually ensures durability.

Description:
C.R.I. 4", 6", 8" 10" & 12" Stainless steel series submersible pumps are made of corrosion resistance stainless steel and are available in wide range (Nominal Flow Ranges from 1 m3/h to 810 m3/h). These pumps are supplied with built-in check valve which prevents back flow and reduces the risk of water hammer.

All vital components of these pump models are made of high quality 304 / 316 grade stainless steel and the shaft is of S.S 304 / 329 / 431. The optimal design of impellers and diffusers enable the best possible hydraulic efficiency. These pumps are of multistage centrifugal type, which can be firmly coupled to a submersible electric motor, which operates submerged beneath the surface of water.

All mounting dimensions of pumps and motors are in accordance with NEMA standards. C.R.I. submersible pumps can be fitted with either C.R.I. 'W' series (water filled rewindable) C.R.I. 'R' series (encapsulated resin-filled ) C.R.I 'L' series Oil Filled submersible motors or any other NEMA standard motors.

Applications:
Residential / Agriculture / Industry / Construction Building Services / Mining / General Water Supply / Oil & Gas.

Nominal Dia: 4", 6",8", 10" & 12"
Power Range: 0.37kW - 300kW
Discharge Range: 1 - 810 m3/h
Head Range: 4.0 - 620 m.

C.R.I. has the widest range of submersible motors to suit any application. In fact, C.R.I. is the one among the world that produces 3 types of 4" submersible motors – Resin filled encapsulated, Oil filled rewindable & Water filled rewindable. With a host of features that promises fail safe performances, C.R.I. Submersible Motors are enhanced by innovative thrust bearing to help with stand heavy thrust load. Available in 110/220/230/380/415/460/525 & 575 voltages.

Dual voltage design , NEMA Standard Mountings , 17-4 PH Shaft Extension. In a word , if it is submersible motors, what C.R.I. give you is perfection!
Source: http:
22 11 00 - Facility Water Distribution
22 14 00 - Facility Storm Drainage
33 44 00 - Stormwater Utility Equipment