About C.R.I. Solar Pumps
C.R.I. Solar Pumps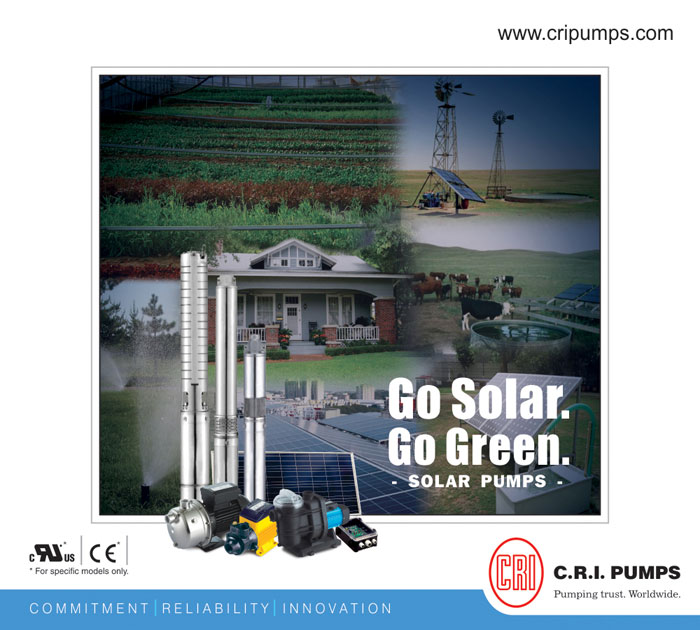 C.R.I. SOLAR SUBMERSIBLE PUMPS – Powered by the SUN

C.R.I. Pumps with 5 decades of engineering expertise in pump industry, understanding the importance of usage of Green energy and the current need across the world and has extended comprehensive range of Solar Pumping systems both in Deepwell Submersible and Surface pump ranges. These product ranges ensure that even in areas where there is little or no power distribution the need for water is met. It is also part of the Company's initiatives to promote GREEN ENERGY powered by the Sun.

C.R.I. Solar Pumping systems are designed & developed using the most advanced technologies suitable for various applications and giving more thrust on high performance and durability.

Ranges:

C.R.I. Solar Submersible Pumping Systems

D.C. Submersible Pumping Systems
A.C. Submersible Pumping Systems

C.R.I. Solar Surface Pumping Systems

D.C. Solar Pool Pumps
D.C. Solar Peripheral Pumps
D.C Solar S.S Jet Pumps
D.C. Solar Screw Pumps




Applications : Residential / Irrigation / Live Stock Farms / Remote Areas / Public Water Supply / Small Farms / De-Watering / Industries / Golf Courses.

C.R.I A.C / D.C. Solar Submersible Pumping Systems.

These Deepwell pumping systems are available in Screw and Centrifugal type solar Pumps with different head and flow range to meet customer requirements. Lower capacity pumps of these systems are supplied with C.R.I. Oil filled permanent magnet, brushless DC motors and Higher capacity pumps are supplied with C.R.I. Water filled rewindable A.C motors. High quality polycrystalline solar panel ensures optimum efficiency of the system.

Features : Eco Friendly / Centrifugal & Helical Rotor Design / Silicon Crystalline PV Technology / High Module Efficiency / Pumps Available in 3 Different Constructions / Dry Run Protector / NEMA Mounting Standard / Water Level Sensor / Powered By C.R.I. Brand D.C / A.C Motors.


Versions

Available Nominal Diameter

Head Range upto

Flow Range upto

Power Range upto

Pumps with D.C Motors

3" & 4"

120 m

7.0 m3/h

1000 watts

Pumps with A.C Motors

3",4" & 6"

488 m

215 m3/h

18.5 kW







C.R.I. A.C Solar pumping systems are supplied along with Solar Pump Controllers integrated with unique features. These controllers are used to convert D.C. power generated from the PV Modules to 3 Phase A.C. power to drive any 3 Phase A.C pumping systems (Submersible or Surface Pumps). The Maximum Power Point Tracking (MPPT) function on the controller ensures improved and overall system efficiency.

C.R.I - D.C. Solar Surface Pumps.

C.R.I. Range of Solar Surface pumps are available in different types such as D.C. Solar Pool Pumps, D.C. Solar Peripheral Pumps, D.C. Solar S.S Jet Pumps & D.C. Solar Screw Pumps to suit various applications. These pumps are available up to 1000 Watts power ranges with Maximum Head range upto 95 m and flow range upto 28 m3/h.

All C.R.I Solar Pumping Systems are supplied with Highly Durable, high quality photovoltaic modules made up of Polycrystalline & Monocrystalline cells. These modules are available from 10 Wp to 300 Wp and are certified in accordance with IEC 61215 and supplied with IP 65 protection junction box & bypass diodes to avoid partial shading.
22 11 00 - Facility Water Distribution
22 14 00 - Facility Storm Drainage
32 82 00 - Irrigation Pumps
33 44 00 - Stormwater Utility Equipment