DEWALT® provides 'non-stop operation' with XR® Li-Ion 4.0Ah range
DEWALT® – the market-leading worldwide power tool brand – is enhancing its XR® Li-Ion collection of tools with the introduction of a 4.0Ah battery pack range. The new 4.0Ah battery packs have up to 33% more capacity than their 3.0Ah equivalents – and so deliver significantly improved tool runtime and efficiency.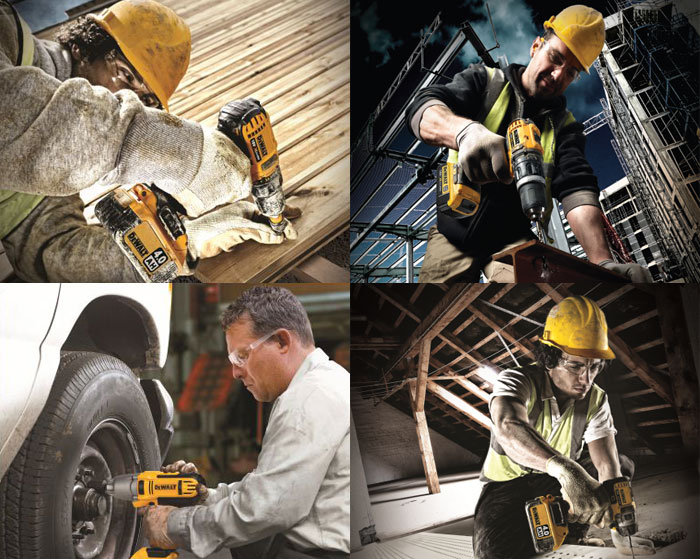 Runtime is frequently identified as a problem for professional trades, particularly when chargers can't easily be accessed; and the improvements in runtime and efficiency provided by the XR® Li-Ion 4.0Ah battery packs are such that, depending on application, some trades could work all day on just one charge.
This 'non-stop operation' does not, however, result in a compromise in ergonomics as the XR® Li-Ion 4.0Ah battery packs are identical to 3.0Ah models in both terms of weight and dimensions.
Designed for demanding applications that require consistent power and performance over extended periods; the XR® Li-Ion 4.0Ah battery packs are being introduced with a new range of dedicated power tools – while being compatible with all XR® Li-Ion tools within the same voltages.
The new high-performing, heavy-duty XR® Li-Ion 4.0Ah tool range comprises: two impact drivers and four drill drivers; two impact wrenches; four saws - jig-, reciprocating, circular and metal-cutting circular and; two rotary hammers and an angle grinder. The tools are available in either, or both, 14.4 or 18V variations.
The new models boast a host of intelligent features that provide the professional with best-in-class benefits over a wide range of operating criteria.
First, the intelligent XR® trigger design and variable speed switch offers greater application control and tool efficiency, helping the user complete projects more quickly and more accurately. It also assists in increasing tool runtime. Furthermore, it monitors and controls battery pack discharge: protecting the tool and battery cells so, ultimately, prolonging tool and battery life. 18V models further benefit from a state-of-charge indicator.
Second, the front face features an intense 3 LED light ring which removes any shadow. This provides excellent lighting and improved fixing accuracy when working in dark spaces or at night. The lights stay illuminated for up to 20 seconds, allowing work to be easily inspected immediately following completion of the application.
For additional convenience, a belt clip and magnetic bit carrier are mounted to the grip sides. These are held by a single cross-head screw, and so are easily switched from side to side, depending on the preferred handedness of the user.
Finally, the tools represent the optimum in ergonomic design, with contoured grips developed in close alignment with user preferences. The grip also features soft surface technology for improved handling and reduced user fatigue in operation.
With the launch of the XR® 4.0Ah range, DEWALT® is setting new standards in performance and productivity, design and durability: and is living up to its commitment of offering tools that are "Guaranteed Tough on the Outside, Intelligent on the Inside".
DEWALT® is a leading manufacturer of industrial power tools, accessories and storage, including corded and cordless drills, saws, hammers, grinders, routers, planers, joiners, sanders, lasers, generators, compressors, nailers, saw blades, metal and masonry drill bits, abrasives, screw driving accessories, soft storage, hard storage systems and more. DEWALT® tools can be found internationally, wherever tools are sold. DEWALT® has one of the most extensive service and repair networks in MEA. For more information, visit www.dewalt.ae or www.2helpu.com