DEWALT announces XR 18V Brushless SDS-Plus Hammer Drill Range
Class-leading performance and extended runtime
Category-leading high speed drilling performance at more than 90 holes (10mm Ø x 80mm) per charge
Compact, lightweight and ergonomic design for improved comfort and support during extended operating periods
Brushless motor with high capacity XR 5.0Ah 18V Lithium-ion battery platform for extreme runtime and reduced maintenance
Perform & ProtectTM : best-in-class vibration at 6.6m/s², minimizing user fatigue
Electronic clutch for consistently-high torque and improved durability
Built-in dust extractor unit for a cleaner working environment(DCH275P2 only)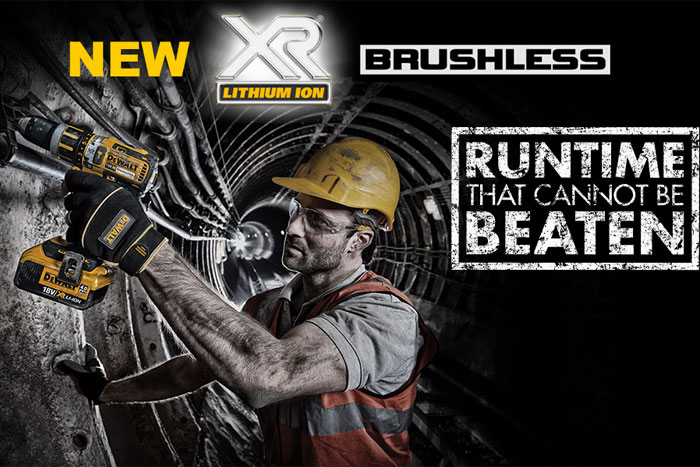 DEWALT ® has expanded its range of XR® Lithium-Ion Brushless cordless tools with the introduction of the DCH273P2, DCH274P2 and DCH275P2, a new 18V SDS-Plus® Hammer Drill range designed for accurate, high speed drilling across a wide range of construction and maintenance applications – with class-leading performance at more than 90 holes per charge*.

| Feature | DCH273P2 | DCH274P2 | DCH275P2 |
| --- | --- | --- | --- |
| Power Output | 400W | 400W | 400W |
| No Load Speed | 0-1200 rpm | 0-1200 rpm | 0-1100 rpm |
| Impact energy (EPTA 05/2009) | 2.1 J | 2.1 J | 2.1 J |
| Blows per Minute | 0-4500 bpm | 0-4500 bpm | 0-4600 bpm |
| Max. Drilling Capacity [Wood] | 26mm | 26mm | 26mm |
| Max. Drilling Capacity [Metal] | 13mm | 13mm | 13mm |
| Max. Drilling Capacity [Concrete] | 24mm | 24mm | 24mm |
| Weight | 3.1 kg | 3.2 kg | 3.3 kg |
| Length x Height | 301X202 | 328X202 | 328X202 |
| Hand/Arm Vibration - Drilling | 6.6 m/s2 | 6.6 m/s2 | 6.6 m/s2 |
These durable, lightweight and compact tools have been ergonomically engineered to reduce fatigue and improve support and maneuverability during tough and repetitive work. Comfort and productivity is further enhanced thanks to the hammers' reduced level of vibration at just 6.6m/s². This conforms to DEWALT Perform & ProtectTM standards, and offers the lowest vibration level in its category.
Powered by a Brushless motor combined with a high capacity XR 5.0Ah 18V Lithium-ion battery pack for extreme runtime, the hammers also include an innovative electronic clutch that ensures consistently-high torque is supplied throughout the life of the tool.
A removable dust extraction unit (D25303DH), designed for cleaner drilling in areas sensitive to dust, is available as an optional attachment, or as standard with the DCH275P2. With the advent of this model, we can boast of a Cord Free Drilling environment in its True essence with the Cordless Vacuum attachment.
Other useful product attributes include a specially contoured handle and gripping area, as well as a convenient belt hook. Furthermore, there is a bright white LED light mounted at the base of the tool for increased visibility in the area of work and hard to reach spaces.
Product Manager DEWALT ME said, "Professional tradesmen who require a high level of performance in demanding conditions, and more specifically those who work predominantly with concrete applications, will benefit significantly from the introduction of these new cordless hammer drills. Adopting Brushless technology and an electronic clutch mechanism allows greater productivity and a lower cost of operation. Coupled with exceptional runtime on a single charge, an ergonomic and well-balanced design, and minimum fatigue thanks to best-in-class vibration, these tools deliver a very compelling and durable package."
Why DEWALT Brushless technology?
A brushed motor within standard professional power tools contain small carbon brushes, which generate friction as the motor spins. This results in precious energy from the battery being lost as heat. The DEWALT XR Brushless motor dramatically reduces this wasted effort, meaning more energy from the battery is committed to the actual application – giving the user a huge increase in the runtime of their tool. A cooler running brushless motor will also last significantly longer, as it endures less damaging exposure to heat.
DEWALT Perform & ProtectTM
The DCH273P2, DCH274P2 and DCH275P2 all conform to the DEWALT Perform & Protect criteria for low vibration. Each tool in the Perform & Protect series is designed to provide a high level of one or more of the following: control, dust containment or low vibration, without sacrificing performance.
DEWALT 18V Brushless rotary hammer range – features at a glance:
Category-leading high speed drilling performance: more than 90 holes (10mm Ø x 80mm) per charge (tested using the DEWALT 18V 5.0Ah battery platform)


Electronic clutch and durable Brushless motor powered by DEWALT 18V XR Lithium-ion battery platform for advanced runtime and longer service intervals


Latest models in the DEWALT Perform & Protect line-up, offering lowest level of vibration in their class at 6.6m/s²


Designed for drilling and fastening in construction, electrical, HVAC, dry wall, joinery, woodworking, window fitting, maintenance, plumbing, amongst many other demanding applications


Compact, portable and lightweight design for enhanced comfort and productivity, as well as reduced fatigue


Two high capacity 18V 5.0Ah XR Lithium-ion battery packs and multi-voltage XR charger included as standard


Job-site tough to withstand the harshest of conditions and most demanding of applications


Bright white LED light at the base of the tool for increased visibility in tight or dark workspaces


Integrated dust extractor for cleaner working environment – available as a separate attachment (D25303DH) or as a complete kit combined with hammer (DCH275P2)


Battery indicator to ensure battery is fully charged before on-site use
Categories: