Ducab launches PowerOverFire campaign in partnership with Dubai Civil Defense
Cabling leader and Dubai Civil Defense promote crucial fire safety message at Middle East Electricity 2016

Ducab, the UAE-based leading manufacturer of high-quality cables and cabling products, today announced the launch of the PowerOverFire campaign for 2016 with the Ducab Truck in partnership with Dubai Civil Defence. As silver sponsor of the event, Ducab will be running seminars over all three days at Middle East Electricity 2016, which runs from the 1st to 3rd March at Dubai World Trade Centre, with the goal of educating the industry, both locally and internationally, on the most up to date regulations and industry approved cabling.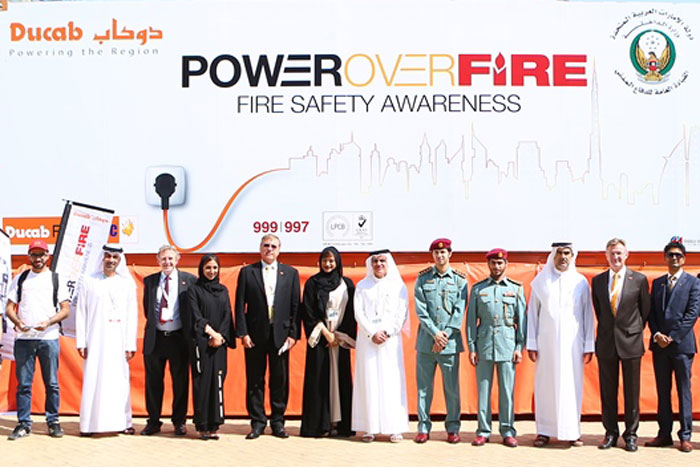 Ducab's PowerOverFire initiative was launched in 2013, with a mobile roadshow in a custom-branded 40-foot truck that will travel the UAE to distribute information to general public, dealers and retailers in the electrical product supply chain. The truck features touch-screen kiosks and a classroom for seminars to raise fire safety awareness with all visitors. This campaign is held in association with the General Directorate of Civil Defence, UAE Ministry of Interior and aimed to target contractors, retailers and the general public.

On this occasion, Major General Rashid Thani Al Matrooshi, Director General, Dubai Civil Defense said, "The Civil Defense is keen to promote sustained cooperation with partners from the public and private sectors to ensure implementation of safety standards at all locations for the entire population in all circumstances. The two sectors work together to achieve UAE Government's vision of being a haven of safety which attracts creators, developers, investors and businessmen, with its strong infrastructure that enjoys a safe electric power backbone characterized by durability, the best engineering applications, and the use of quality building materials to ensure the protection of life and property."

Ducab being a leader in the electric cable industry is a strategic partner in ensuring public safety as it complies with the safety and security requirements implemented by the Civil Defense. Electrical power lines and transmission can be the source of sustaining life but could also be a danger when it does not match the international quality standards of the UAE code within which the Civil Defense operates.

Andrew Shaw, Managing Director, Ducab said: "At Ducab we believe that fire safety is a collective responsibility and with this campaign we aim to address the issues of faulty, counterfeit and unapproved cables and wiring in the UAE building and construction industry. We continue to support Dubai Civil Defence to advance the conversation on fire safety and we will do our part to ensure that the importance of correct specification and installation of certified wire and cables is communicated to all parties in order to potentially save lives and avoid loss of property."

Post the summit, the truck will continue to tour the emirates and other GCC countries to provide an interactive learning experience on fire safety in key areas such as industrial zones and construction sites.
Categories:
21 00 00 - Fire Suppression