UAE's Ducab Unveils state-of-the-art Fire Performance Cable Testing Lab to Respond to Market Need
Ducab's FlamBICC cables tested inhouse at new laboratory offering independent witness testing to the highest British Standards

Ducab, the UAE-based leading manufacturer of high-quality cables and cabling products, owned equally by Investment Corporation Dubai (ICD) and Abu Dhabi's Senaat, announced the opening of a newly built state of the art fire testing laboratory specifically built for the Ducab FlamBICC range of Fire Performance cables, according to BS EN/IEC standard and Ducab NuBICC nuclear cables tested in accordance with IEEE International standards.

According to Civil Defence authorities and Ducab, major loss of property and life can be avoided by eliminating substandard and non-certified cables, which produce poisonous gases with black smoke obscuring visibility in the event of a fire. Ducab is committed to working closely with the construction industry to ensure cables and accessories are certified to meet strict International codes of practice thereby reducing the risk to life and property and pride itself on producing and achieving independent UAE Civil Defence, HongKong Fire Authority and other International approvals with LPCB & BASEC Accreditation.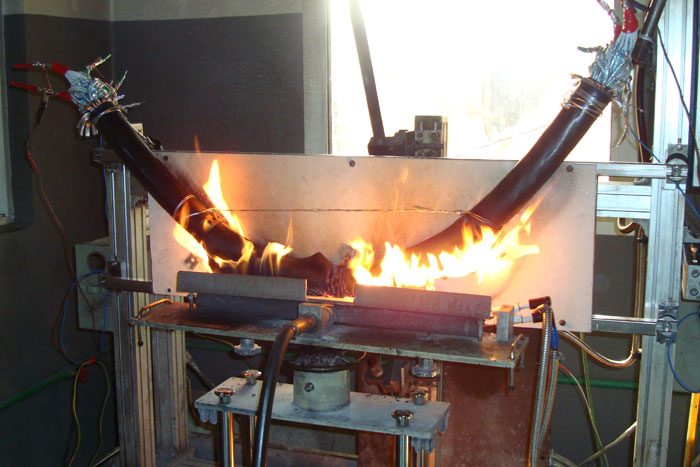 Ducab cable manufacturing ensures all cables are subject to extensive testing during each phase of production, certified by independent LPCB & BASEC UK to meet the latest BS EN, IEC and IEEE standards and current Code of Practice. These standards provide recommendations and guidelines to the industry for the selection and installation of fire resistant power and control systems.

The new fire test facility at Ducab is equipped with the latest laboratory, operated by highly qualified and trained manpower and offers various fire and smoke tests in accordance with BS8519 Code of Practice. IEEE 1202 is specifically used for testing Ducab NuBICC range of nuclear grade cables making it the only facility to conduct this test in the region. The BS EN 50399 test is a new requirement to meet CPR (Construction Product Regulation) for assessment of the 'reaction to fire' performance of cable which will be mandatory across Europe by 1st July 2017.

Mohammed A. Al Mutawa, Ducab's Chief Commercial Officer, said: "Ducab commits to meet and adhere to all new certification standards as laid down by the UAE and international authorities, and we are confident of meeting the new standards in the UAE as well. As a respected UAE national company, we believe that we have a responsibility to elevate the overall cable standards in the industry and reduce instances of loss to property and life due to non-certified and fake cables with their black smoke and acid halogen emissions in a fire. Our state-of-the-art laboratory will test all Ducab FlamBICC series cables, ensuring that all material used will behave predictably in the unfortunate instance of a fire. It is imperative to gain as much time for a safe evacuation as possible in the event of a real fire scenario."

A UAE-based professional manufacturer of power cabling solutions, Ducab works closely with UAE Civil Defence in ensuring public safety. Ducab's PowerOverFire initiative, launched during 2015 is a mobile roadshow in a custom-branded 40-foot mobile display unit that travels the UAE to distribute information to the public as well as to traders and retailers in the electrical product supply chain.

Ducab FlamBICC
Ducab FlamBICC range comprises of special Fire Performance and fire-resistant cables that can be used across various applications such as in schools, shopping malls, mass transit systems, special equipment in hospitals, and in essential safety circuits such as fire detection, fire alarms, and voice alarms. Ducab FlamBICC cables are especially installed for power supply to equipment used in fire-fighting, elevators, sprinkler pumps and in large complex buildings, where fire strategy involves evacuation of occupants in a phased manner.
Ducab full range of FlamBICC cables are rigorously tested and approved to meet the life and fire safety objectives of fire survival time as determined by the British Standard Codes Of Practice (BS 8519). These intensive tests include the vertical flame, CWZ, smoke density measurement and fire resistance tests with F120 and PH classification where the cables are verified for circuit integrity during fire. The test subjects the cable sample to the direct impact of fire, mechanical shock and a water jet simultaneously for different time related periods, between 30 to 180 minutes. Low Smoke and Zero Halogen features are also put to test to ensure the cable does not emit black smoke or toxic halogen gases, providing for better visibility in the event of a fire and ensuring that sensitive equipment in the surrounding areas is not adversely affected.
Categories: