Durable and Timelessly Elegant: AMF Mondena Metal Ceilings
The metal ceiling system from Knauf AMF creates recognition and underlines the excellent expertise profile. The product programme ranges from square edge lay in systems through free-span corridor ceilings, right up to specialised individual solutions. Application-specific ceiling solutions – that is what Knauf AMF as an innovative ceiling manufacturer represents with the launch of the metal product range. Always in focus – Knauf AMF is the complete systems solutions provider for the modular ceiling!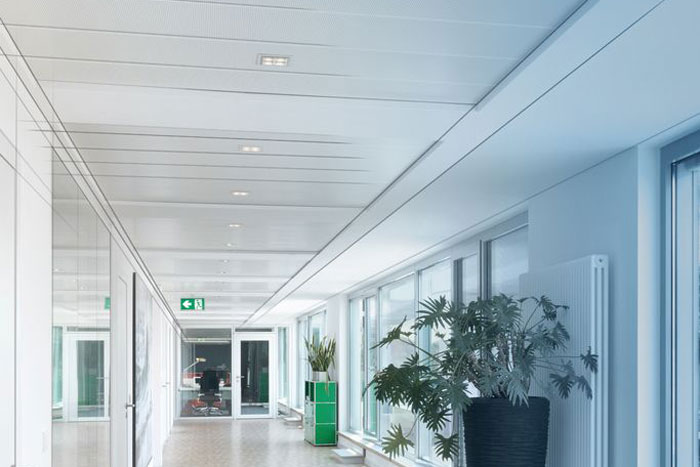 Metal ceiling tiles with different perforations and colours can significantly affect and enhance the aesthetic and ambiance of a room.
Metal ceiling tiles are virtually maintenance free, have a very long product life and are insensitive to environmental conditions.

Using metal tiles has many advantages: Demounting for maintenance is quick and easy, problem-free cleaning thanks to the smooth and robust surface and they are excellent for use in areas with increased technical requirements due to the variety of coatings and construction options.
METAL SYSTEM SOLUTIONS
System C: Exposed System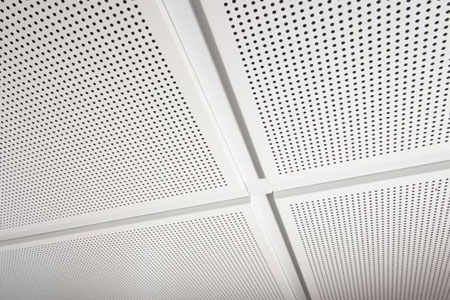 The simplest and most cost-effective
As an exposed system, system C is the simplest and most cost-effective variant for laying metal cassettes in a traditional grid construction. The well-known construction system, recognised for its efficiency, ensures quick and easy installation, whereby every individual cassette is removable without tools for cleaning or maintenance work. The AMF MONDENA® metal cassettes with square edge (SK) lie flush in the construction, whilst recessed edge (VT) cassettes emphasise the ceiling module and the modular construction.
System A: Concealed System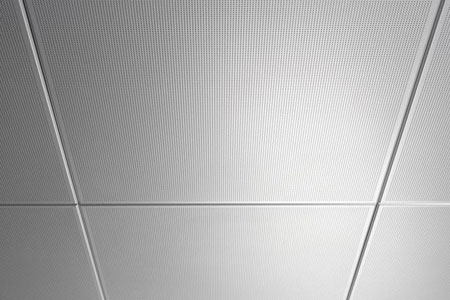 The concealed system solution
System A is characterised by its concealed grid construction and concealed construction profiles. The concealed profiles result in an elegant and clean appearance, contributing significantly to an unobtrusive ceiling. The metal tiles are efficient and easy to install and are available with swing-down function where required. Adapted to individual requirements, the ceiling void can be accessed at any time.
System F: Free span system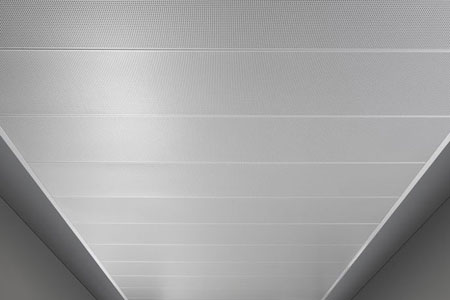 Perfect solution for corridors
System F, which can span up to 3.00 m, is the ideal solution for corridors. It is quick and efficient – both in terms of installation and for maintenance work – as the individual tiles can be demounted without tools. Another advantage is that almost 100% of the ceiling void can be used for installation of services (ventilation shafts, cable trays, wiring etc.). The corridor tiles are hooked both ends onto horizontal Z profiles or lay on aluminium perimeter trims. Consequently, no vertical hangers are necessary. The optical shadow gap of the corridor hook on system enables corridors to achieve a prestigious and modern look.
System I: Bandraster System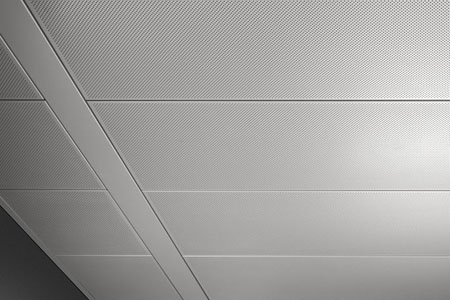 The flexible system solution
System I is a parallel emphasised ceiling construction with exposed main profiles to match the architecture and module of the building. Lightweight partition walls can be connected to the Bandraster profiles enabling flexible room division and layouts. The short sides of the plank tiles lie on and span freely between the C-Bandraster and can be removed without tools at any time. The flexible choice of Bandraster centres open up excellent design and layout options.
Categories: