Eclipse Glass Pocket Doors
Eclipse Pocket doors slide smoothly into any of our double glazed wall systems. They retract between the fixed panels for an ultramodern entryway.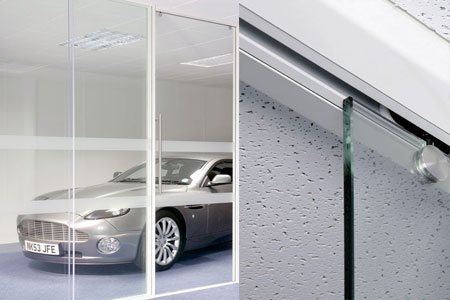 Key Features

Locking mechanism available
4' stainless steel handles come standard
Curved application available
Floor track for door location
Top hung door rollers
Door frame included for easy set up
Glass Options
3/8" Clear tempered
3/8" Laminated glass
1/2" Clear tempered
Laminated LCD privacy glazing
Wall Integrations
Hardware & Fittings
Aluminum and stainless steel
Gigante Lower Handle and Locking Mechanism
Custom assemblies upon request
Custom finishes concealed
Frameless Interior Pocket Glass Doors for Acoustic Glass Walls
Interior Sliding Glass Pocket Door Systems maximizes the use of Double Glazed Acoustic Glass Wall Systems while creating an aesthetically pleasing appearance. Each system includes solid stainless steel components, incorporated roller assembly fitting over exposed stainless steel support bar.. Eclipse Plus™ Sliding Glass Door Systems are available in alternative installation methods, enabling choice of aesthetics.