Emirates Green Building Council technical workshop discusses waste water treatment in urban developments.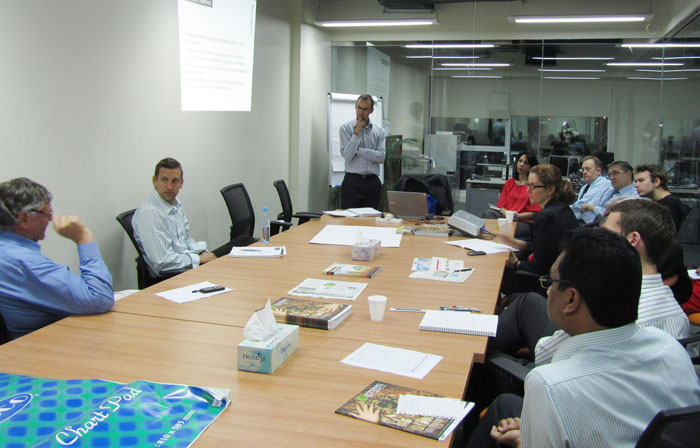 The first monthly technical workshop, hosted by Emirates Green Building Council (EmiratesGBC), discussed the various aspects of waste water treatment in buildings and urban developments.
The technical workshop is in line with the Council's mission to share the combined expertise of its members with all stakeholders across the entire supply chain of the construction sector.
Aimed at exploring the opportunities and barriers in the use of wastewater collection and recycling for secondary usage, the workshop discussed various aspects involved including project design, regulations and product knowledge. The members discussed best practices to further drive the reuse of water, a precious resource.
Dr. Rob Cooke, EmiratesGBC Technical Coordinator said, "These workshops are designed as a way of openly sharing knowledge and ideas across the diverse range of EmiratesGBC members and partner organisations. It was really exciting to have 12 experienced professionals from different backgrounds discussing the important issue of reducing water consumption through recycling wastewater. "
"We had feedback from developers and building operators who have applied or are trying to apply these systems, input from experience across the Emirates, information from consultants and a general discussion about how the practice of wastewater reuse can be encouraged in the region. The overarching feeling was that reducing the UAE's water footprint is critical from the environmental sense and it also makes business sense for the Government and building owners," he continued.
Dr. Cooke, added, "To make the most of the opportunity, there is an underlying requirement to increase awareness and education of the whole industry supply chain including maintenance and operational staff at the professional level. We need better awareness of regulatory and licensing requirements, regional and international precedents and of the suppliers and technologies available in the region. The group was very keen to extend the discussion further and to involve further key stakeholders including Government departments in a follow-up session."
The workshop highlighted the strengths of the EmiratesGBC including the diversity of its membership base and contacts across the industry, academia and Government departments. Between the members, there is a huge body of knowledge on best practices and the Council's workshops encourage knowledge sharing and thus promoting all-round industry development.
As part of the its objectives to strengthen awareness on promoting sustainable built environments, EmiratesGBC will conduct similar technical workshops on a monthly basis to share knowledge of a topical subject and explore how the Council and its members can influence improvement across the industry. The next Technical Workshop for is scheduled for 2 May.
The summaries from the discussions will be shared among the members and will also be available on the EmiratesGBC website.