EVO Windows Legno/Alluminio: Evolution of the Wooden Window
Cocif is proud to present EVO, an offspring of the development of the Home Design Project, that incorporates a new technology that is light-friendly, offers good performance and has fine lines.

An innovative system in which Cocif's technology is built into a new look, inspired by maximum essentiality. EVO's main feature is the section of the wing's frame that is only 70 mm wide, less than the usual 80 mm, achieved by using solutions that ensure the best performance in terms of thermal insulation, certified sound-proofing, safety and reliability over time. The EVO line is suitable for a broad range of types of design, for those who want to interpret the window in the scope of contemporary architecture.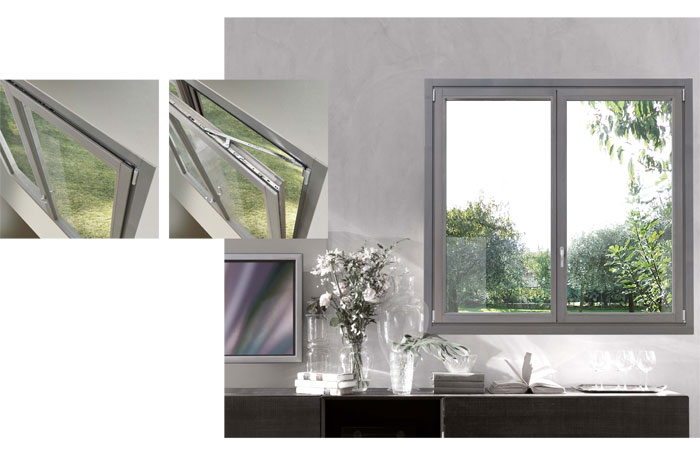 Details of the outside of the window. Frame version with aluminium or wood ledge.

EVO windows are available in different wood finishes: DKD laminated white fir, laminated finger jointed pine, solid pine.

Multiple finishes are available: natural, semiopaque and fully opaque in RAL colours.

The Alzante Light sliding door is the perfect solution for large areas, due to the small footprint of the leaf profiles and maximum light area.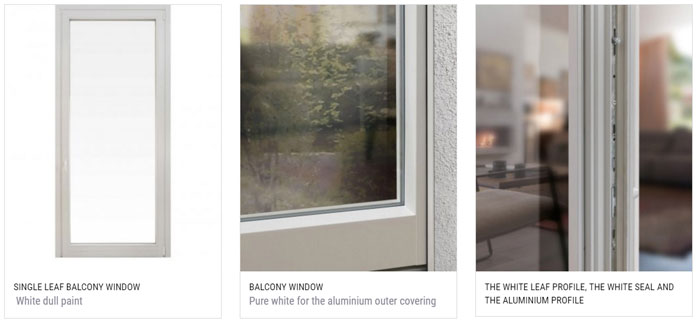 Eternal Comfort
While reliability, design sophistication, watertight seal, acoustic comfort and energy savings, are features and benefits also provided by wooden frames, the addition of an outer aluminium coating completes or even increases EVO's performance. The wood-aluminium system (wood internal frame and aluminium outer covering) provides maximum weather protection of the outside of the frame, even without caring for it, while retaining the good looks of wood inside.
The practical handle to unlock the second wing of the French doors and the elegance of the white seal, of the Globe handle the SSV warm edge spacers of the triple-pane glass. The adjustable mushroom-headed locking cam, for safety and comfort. Opening hardware, safe, beautiful and discreet.
The elegance of a white leaf profile, a white seal and an aluminium profile.
The standard micro-ventilation feature provides offers a slight air turnover, useful when the outdoor temperature is very low. Its 8 position handle makes it easy to select the frame's position.The drop-leaf opening is available as standard also for 2-leaf windows.
The sturdy hardware support, which can bear 150 kg per leaf, makes it possible to build very wide leaves. More light, more life.
Categories: