Finding a suitable faucet for your dream bathroom in an Eid makeover
Brushing teeth, washing hands, and every now and then washing clothing pieces in the washbasin: a bathroom faucet is in daily use for years. If you plan a bathroom renovation or re-design after Eid, you should take into consideration a few points when choosing the new faucet in order to enjoy it for a long time: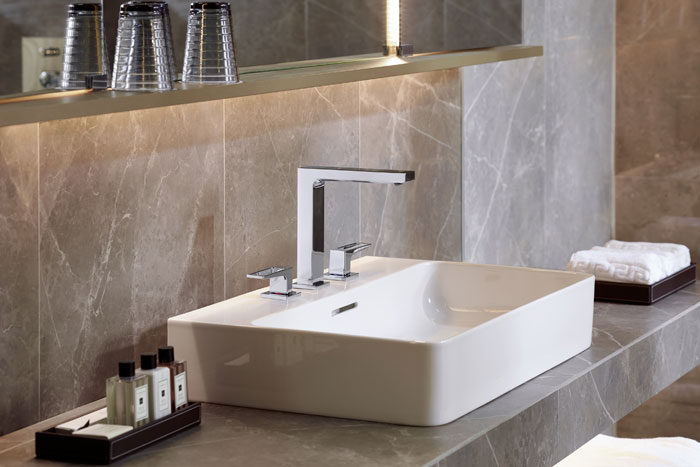 Inspirations:
Get yourself an overview over the different models first. Lots of manufacturers provide information and photos on the Internet. Furthermore, there are special apps allowing you to test which faucet works best with which type of washbasin.

Find your Personal Style:
Classic, modern, or elegant – depending on the style of bathroom you decide in favour of, you can choose between different models and designs of faucets, which match the style of the bathroom.

Perfectly Coordinated:
The correct height of a faucet allows you to comfortably wash your hands or hair in the washbasin. If faucet and sink harmonize, water splashes are minimized, even when you turn on the water a bit more. Some manufacturers offer overviews of matching product combinations.

Handling Comfort:
You have the choice between faucets with two handles or single lever faucets. When planning a bathroom suitable for the elderly, or if children use the faucet, you should focus on easy handling. Fittings with a simple push of a button allowing you to turn the water on and off are especially smart. This works with the forearm as well and your faucet stays clean.

Save Water and Energy:
Faucets with special technologies for the saving of water and energy protect resources and the environment. Some faucets on offer use exclusively cold water when the lever is in a neutral position. Others use intelligent technologies to regulate the flow-rate and thus save water.

Perfect Placement:
Depending on the design of your sink, there are different options for the installation of the faucet. Besides, above, or on the washbasin: choose a faucet which fits consistently with your overall concept. When planning a small bathroom, pay attention to using a space-saving faucet, which leaves enough room for the remaining arrangements.

Gentle Care:
If possible, avoid aggressive cleansing agents or brushes, as they could damage the surface of your faucet. Use a soft cloth and spray it with a gentle cleanser instead, and afterwards go over the faucet with clean water. This will leave your faucet shining for a long time.

By the way: bathroom and kitchen faucets are from the same product family, but cannot replace one another. Both the possible use and the installation processes are entirely different. A professional consultation and extensive information on models, additional functions, and possible use are available in specialist shops.

As part of the internationally active Hansgrohe Group, hansgrohe is the premium brand for showers, shower systems, bathroom and kitchen taps, as well as kitchen sinks. With its many award-winning products, hansgrohe shapes the flow of water in the kitchen and the bathroom. Because this is where people spend the time they treasure most and experience precious moments in the interaction with water. With these moments in mind, hansgrohe develops ground-breaking solutions that unite extraordinary design, long-lasting quality and intelligent features for maximum ease of use. hansgrohe turns water into an impressive experience:

hansgrohe. Meet the beauty of water.
Categories: