Florida Construction Projects Build on Penetron Technology
Building the dream home – or any commercial or infrastructure project – in Florida comes with a number of challenges for the construction industry. The Crystal Lagoons project, set for completion by Christmas 2018, tapped Penetron crystalline technology for both waterproofing and long-term durability.

"Florida's tropical and subtropical climates, together with its long Atlantic Ocean and Gulf coastlines, are the ideal environment for a crystalline waterproofing solution that can reliably reduce permeability in concrete – with or without hydrostatic pressure," explains Christopher Chen, Director of The Penetron Group. "That's why Florida is Penetron country."

Once the final bucket of Penetron-treated concrete was poured in July 2018, the Crystal Lagoons – a large-scale, Caribbean lifestyle project – became a reality. The largest project of its kind to date in the USA, it created 14 acres (about 5.6 hectares) of extensive man-made lagoons constructed of waterproofed concrete set at an average 10-foot (3.3 m) depth. The artificial lagoons can reliably withstand the resulting hydrostatic pressure and are filled with either fresh or seawater.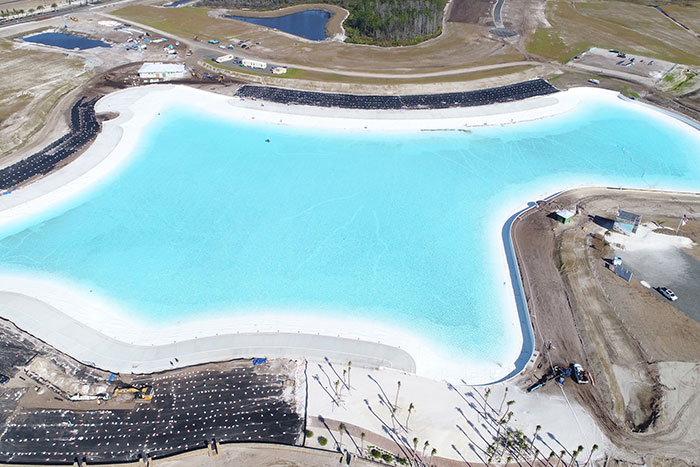 Building Codes Matter
Where does this high level of durability in construction come from? After the disaster of 1992, when Hurricane Andrew slammed into Florida, leaving billions in damages in its wake, the state created the most stringent building code in the nation. Last year's storm, Irma, delivered proof of the code's effectiveness; most of the buildings built since 1992 held up well against the Category 4 and 3 winds of the storm.
"Beginning with the stricter Florida building codes, the increasing use of Penetron crystalline products is part of the construction industry's evolution. Using more innovative technologies simplifies the building process and ensures a significantly higher level of concrete durability for residential and commercial projects," adds Christopher Chen.
The concrete structures of the Crystal Lagoons must withstand constant contact with water – the perfect application for - PENETRON ADMIX. As a crystalline admixture, PENETRON ADMIX reacts in a catalytic reaction with moisture in fresh concrete to generate a non-soluble crystalline formation throughout the pores and capillary tracts normally found in concrete. This formation permanently seals microcracks, pores and capillaries against the penetration of water or liquids from any direction, substantially reducing the permeability of usually porous concrete.
With the US construction industry moving towards productivity-enhancing technologies, Penetron crystalline products have gained a reputation for better control costs and maintenance, as well as helping to accelerate the installation of better waterproofing solutions. Previously widespread topical and membrane solutions for concrete structures have been shown to be overly complex to install and often much more problematic to maintain.
Standard Solution in Northern and Southern Florida
"The realization that crystalline technology is able to provide enhanced durability to concrete structures has made Penetron the waterproofing standard in the Miami area and across the southern part of the state, where resistance to chloride ion penetration and corrosion in such environments is key," says Christopher Chen.
Some of the most recent highlights from the Miami area that feature Penetron technology include:
Mansions at Acqualina, Sunny Isles Beach
Grand Beach Hotel Bay Harbor, Bay Harbor Islands
Miami Bay Club, Miami
The Grove at Grand Bay, Miami
Motion at Dadeland, Miami
"In recent years, an increasing number of our projects – like the Crystal Lagoons project that just completed the initial stage of construction – now originate in the central and panhandle areas of Florida," adds Christopher Chen.
Penetron projects from the Central and Northern Florida regions:
Otter Creek Wastewater Treatment Plant, Tallahassee
Salvador Dalí Museum, St. Petersburg
Westminster Oaks Apartments, Tallahassee
Statewide Solution for Durability
Obviously, with millions of people living within four feet of the local high tide line, all buildings in Miami and Southern Florida face the threats of storm surges, inland flooding from heavy rains, destructive winds, high surf and rip currents – all capable of causing extensive damage. However, the climate across the rest of the state also creates unique challenges for construction projects, with high water tables, tropical storms and proximity to brackish and salt-water areas.
PENETRON ADMIX has been a highly effective solution for concrete structures in the high groundwater environments encountered across Florida – by significantly decreasing concrete permeability and the service life of new construction projects, where Penetron technology is an important part of the durability design of such structures.
"Penetron crystalline technology is the most efficient and economic waterproofing solution on the market," concludes Christopher Chen.