About Frames
Frames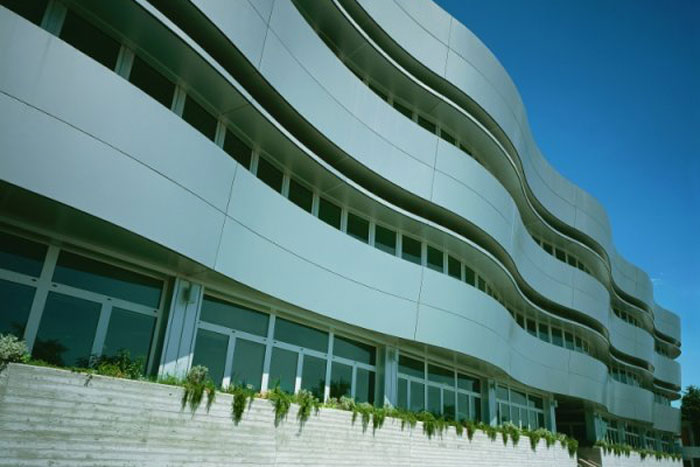 Giuliani produces aluminium and aluminium-wooden frames with high performance.

Our research and designers always aims at the constant improvement of performance and at the achievement of the best functionalities through the study of innovative materials, with particular attention to thermal transmittance.
Without Darkening
The range of Giuliani's products called "COMFORT" identifies the group of systems for aluminium frames that are suitable for many technical and aesthetic solutions deriving from the requests of architects and designers and sites requirements.

Its versatility is given by the possible application to all kinds of darkening, such as sliding folding shutters, fixed sunbreakers, folding sunbreakers, roller blinds etc…

The system has been created with a basic configuration enriched by special foldaway profiles or by increased static inertia and other solutions that have been studied and customized according to the project.

The COMFORT production lines can be divided into three categories: casement, Historical and sliding types. They include several possibilities: aluminium frames, aluminium-wooden frames, shutters with glazing bead, slip-in shutters, hidden shutters, structural shutters.

Casement Type
Historical Type
Sliding
With Darkening
The company Giuliani has developed and has refined a system of frames that integrate roller shutters creating the concept of a built-in unit.

This selection of frames is characterized by the "SEAL" line that has been designed in order to cut down as much as possible the laying operations by enhancing the product quality, which is almost entirely produced in our firms by controlling and monitoring its executive phases according to the norms of the quality management system.

This built-in unit is produced in several configurations, both in relation to the profiles' aesthetic, and the darkening systems.

Casing can be visible or rollaway.

The "visible" type has been designed in two versions, with prominent or flat casing. They can be produced in wood or iron plate.


The "rollaway" type gives the chance to see the rolled blind through an internal casing or an external wall top cover when the frames are inside flush mount.


SEALproduction line can be divided into three categories:


Casement type
Historical type
Sliding type
These include several possibilities: aluminium-wooden frames, shutters with glazing bead, slip-in shutters, hidden shutters, structural shutters.
Shutters
It is a system made up of hinged sliding and folding slats, a good solution from a building and from an architectural point of view and a practical darkening system. This shutter can be installed on every type of aluminium, PVC and wooden frame, on both sliding and casement frames according to the width of the frame itself and with a reduced eye-catching effect from the inside. The folded slats can also be hided in the wall. As an option there is the chance to install a mosquito net within the profiles lodging without increasing the amount of space occupied by the profiles themselves. The sliding and the folding of hinged slats is performer thanks to self-lubrificating rolls and runners together with articulated continuous hinges, which are part of the slats themselves.
07 42 00 - Wall Panels
07 77 00 - Wall Specialties
08 40 00 - Entrances, Storefronts, and Curtain Walls
08 44 00 - Curtain Wall and Glazed Assemblies
08 45 00 - Translucent Wall and Roof Assemblies
09 77 00 - Special Wall Surfacing
32 32 00 - Retaining Walls