Hansgrohe products selected for stunning Polynesian themed Sofitel on The Palm Jumeirah
Hansgrohe products chosen for the guest rooms of the Sofitel Dubai The Palm Resort and Spa, represent a simplistic sense of peace and tranquility, offering the perfect escape from fast-paced city life. One of the latest luxury hotels to open on Dubai's iconic Palm Jumeirah, the hotel is based on a unique Polynesian island theme, with vertical gardens, fresh flowers and artworks bringing elegance to the luminous hotel.
Offering understated luxury with the utmost in comfort, the 361 room hotel features basin, bidet, bath, concealed shower mixers and hand showers from Hansgrohe's Axor Massaud, Axor Starck, and Axor Starck X designer collections. Axor Massaud is a collection inspired by nature, with a harmonious connection between organic and geometric shapes, creating a sense of peace and serenity when bathing. Axor Starck and Axor Starck X products focus on the basics; the enjoyment of water, which through the reduction of shapes offer a sense of freshness, clarity and exclusivity.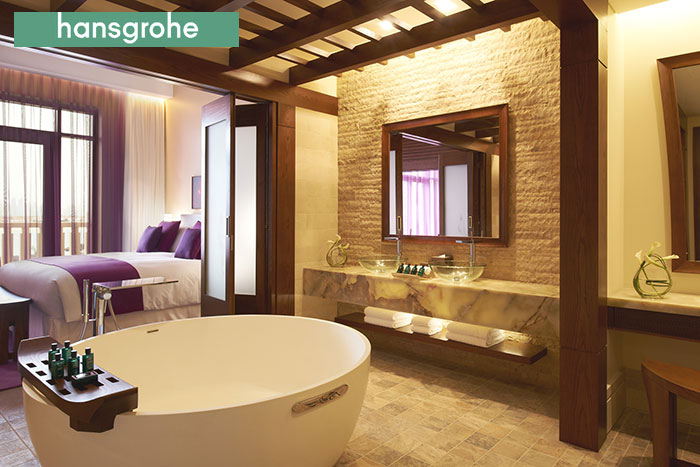 Adding to the healthy feel of the hotel, the guestrooms also feature Hansgrohe's Raindance Classic overhead and hand showers, which offer an element of sustainable comfort for hotel guests. The showers' cutting-edge AirPower technology enriches water with air inside the shower, propelling a gentle flow of rain-like droplets onto the user.
MIRK Architecture and Engineering, specified the Axor collections to match the luxurious profile of the 5-star resort's simplicity and purity. Mahnaz Liaghat, Director of Mirk, believes that great design distinguishes itself by appealing to the fourth dimension - the subconscious. She said, "The sensual water experience of Axor Massaud is very inspiring. The flow, the sound, the quality of the material - all these attributes contribute to an impression of tranquility."
Dirk Schilmoeller, Sales Director Middle East for Hansgrohe, said: "Whether a grand hotel or a small, refined boutique hotel, premium-quality bathrooms are a sign of sophisticated hospitality. The Axor Massaud collection offers a modern yet sensual form that perfectly represents the design theme of the hotel. The consciously open architecture integrates the bathrooms into the serene guest rooms and represents the 'Island' philosophy of the hotel. This is a further example of why hotels around the world equip their bathrooms with Hansgrohe and Axor products. The mixers, showers and bathroom collections enhance the design and comfort offered at these prestigious addresses."
Exuding French Polynesian charm, the resort is encapsulated by a private 500m stretch of pearlescent beach, enabling guests to indulge in breathtaking sea views overlooking the East Crescent of Dubai's must visit destination, the Palm Island. With an abundance of stunning organic architecture and lush vertical gardens created by the renowned botanist Patrick Blanc, the resort graciously reflects a timeless spirit and tropical allure.
Categories: