Happy Toilet Healthy City
The theme of 15th edition of World Toilet Summit & Expo is "Happy Toilet Healthy City": a city without public toilets is not healthy and it's not comfortable for his citizens, especially for "special needs" like elderly/disable people and parents with children.

So, how do we evaluate our city? Landscape? Traffic? And Services?
Playgrounds, parks, public toilets… are costs or possibility?

Why is it difficult to find toilets in our cities?

Toilitech is the solutions for public facilities!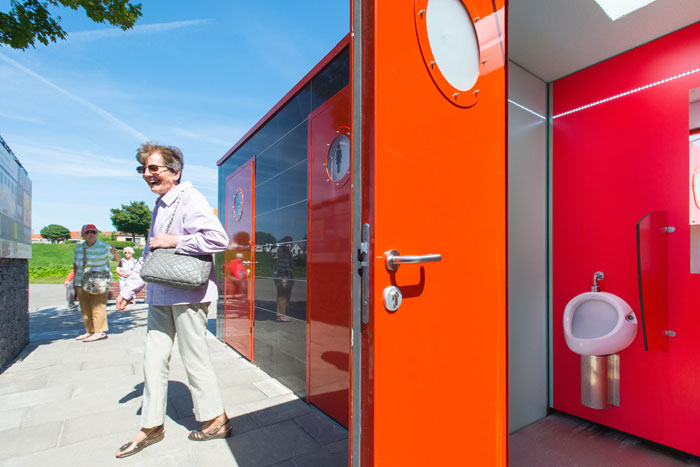 Established in 2014, TOILITECH is the brand with which PTMatic commercializes self-cleaning toilets, automatic public toilets (APT), prefabricated toilets, eco-friendly toilets and urban furniture integrated solutions.
TOILITECH serves the international market and, thanks to its capacity for innovation and ongoing development of cutting-edge formal and technological solutions, is one of the world's leading names in the supply of public toilets.

We're the only company on the market who sell self-cleaning toilets equipped with a patented cleaning technology: management, cleaning and disinfection of toilets with PLUS® technology guarantees a perfect wash, disinfection and drying of the toilet.

This combined, patented system washes and dries the toilet bowl, scrubs and removes all debris from toilet floors, and dries floors thanks to our Lava–Tergipavimento® patented floor wiper system.

Discover our PlusTechnology® Video
Self cleaning toilets how do they work

What is PLUS technology?
Automatic wash and disinfection:


Micro-flush coating of the bowl while in use;
Automatic flush of the bowl after use, wash and disinfection of bowl, drying of bowl top;
Washing and disinfection of toilet walls up to a height of 0,8 m around the bowl;
Washing of washbasin with high-pressure nozzle;
Scouring of floors with floor wiper system for mechanized removal of debris; washing, disinfection and drying of floors with Lava–Tergipavimento® technology, patent nr. MI 2005 A001873.
The entire toilet is washed and DISINFECTED by silver hydrogen-peroxide spray during night-time closure with special DCN-ECO3® cycle (upon request)



Precise detecting of presence of users:


Special electronic weight sensors determine with extreme precision (<1 Kg. margin of tolerance) the presence of children, adults (one or more) in the toilet, guaranteeing a safe and targeted use of the facility and avoiding misuse.



Maximum safety for users:


All moving parts are pneumatic; if power fails, the door still opens and closes.
The washbasin is shaped to avoid the presence of hazardous objects (syringes or other).
There are no sharp edges or joints; every component of the toilet is projected with careful attention to ergonomics.
PTCall® two-way emergency call system
TOILITECH's main goal is to offer users of its public toilets a perception of total hygiene and safety, two issues of the utmost importance for a pleasant and comfortable use of our facilities.
All TOILITECH's facilities are designed and implemented to allow accessibility to users with disabilities. All our products comply with legislation in force in all our various markets. TOILITECH is committed to an ongoing study of the indoor ergonomics of its facilities and develops a vast range of technological solutions (vocal instructions, internal and external instructions in braille, LED-lighted large operating buttons, etc.) to help hearing impaired or physically challenged users.
In addition to our solutions for users with special needs, our toilets are designed to meet the needs of specific groups, such as children (changing tables, safety systems for the safe access of children, etc.) elderly people (large LED-lighted operating buttons, diffuse lighting, absence of obstacles on the floor, PTCall® emergency call system, etc.).
Categories: