Heradesign creates calm in a demanding environment
Sobha Hartland School comprises primary and secondary education in one large campus in the heart of Dubai. The school prides itself on its extensive facilities, particularly in sport where it encourages children to play a wide range of activities and take part in sporting competitions.

The indoor sports hall at Hartland is designed for multi-sports use and is subjected to tough daily use. Sobha Engineering & Contracting LLC specified Heradesign wall panels from Knauf AMF because they offer outstanding acoustic and durability required to create an environment where staff and children can interact together in comfort.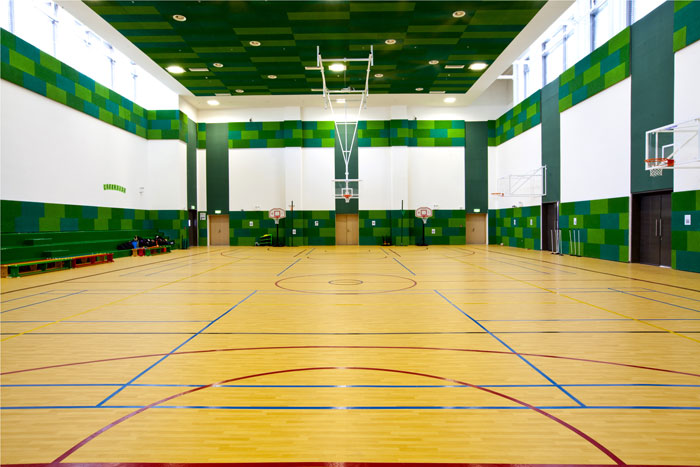 Sobha Hartland School, Indoor Sports Hall
"Heradesign offers the highest sound absorption and impact resistance making it excellent for busy, demanding areas. The school liked the mix of different coloured wall panels that add a visual energy to the hall."

The Installed surfaces in the hall need to withstand the impact of heavy ball use. The life time of these surfaces is determined by their impact resistance. Heradesign is a range of ceiling tiles and wall panels manufactured from sustainably sourced wood-wool and has a superior durable woven surface that offers the highest Class 1A impact resistance. Heradesign is a cost effective solution for heavy duty areas.

Acoustic control in a sports hall is a challenge. A typical interior is fitted with hard surfaces that are strong and durable but can be highly reverberant. Acoustic control can be achieved by installing sound absorbent ceilings and wall panels. Heradesign provides outstanding Class A sound absorption ensuring the hall is free from unwanted echo enabling children and staff to hear one another clearly.

The use of bright colours is taking the sports hall into a new dynamic era. In the school's hall, the architect has really exploited the use of colour by specifying Heradesign in 3 greens in a chequerboard pattern to produce a space which is visually stimulating. Heradesign can be matched to any colour using popular colour systems including RAL, NCS and StoColor. Heradesign is available in a wide selection of face patterns, edge details, standard and bespoke sizes, offering architects further design possibilities.

If you are designing an interior for a demanding multi-use environment and would like advice on how to achieve a finished interior that is robust and a pleasure to use, contact Knauf AMF Middle East office in
Dubai on 04 609 1805. For more information visit www.knaufamf.com or email amfgcc@knaufamf.com
Categories: