Heradesign proves it's good for business
Heradesign from Knauf AMF Ceilings, has been specified in bold red and blue ceiling and wall coverings for four meeting booths in a newly refurbished 1950s building at London Business School. The school is consistently ranked as one of the best providers of business education in the world and their new office reflects their desire to remain at the forefront of modern learning.

Good office architecture continually develops to reflect the different ways in which people work – creating flexible, relaxed and informal spaces for alternative ways of working. The meeting booths at London Business School are designed to provide intimacy and some privacy whilst remaining connected to the rest of the office.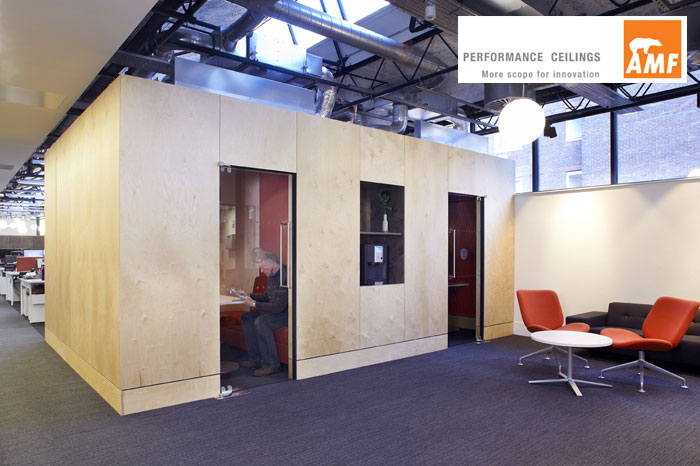 To realise this, Architects, Sheppard Robson designed the booths in natural materials to add colour and simplicity while complementing the existing materials in the original building. Principal architect, Gavin Robinson was drawn to Heradesign for its aesthetic qualities. With its organic wood-wool woven surface, Heradesign mirrors the textured straw board material in the roof of the existing construction and works in harmony with the natural birch panelling of the booths' exterior.
As is the current direction in office booth design, single colours have been chosen for the interiors. The Heradesign panels have been colour matched to the upholstery of the benches in the booths. Gavin Robinson was particularly impressed, "I am thrilled with the finished look – colour matching was very important for the interior design and the colour of the wall and ceiling panels is spot on".
Heradesign can be specified in a wide range of custom colours including popular systems such as RAL, NCS or StoColor making it ideal for creating truly unique interiors.
The aesthetics are not the only characteristic that set Heradesign apart; it offers superior acoustics, fire resistance and ease of installation too.
As the meeting booths are designed for phone calls and meetings, good speech intelligibility is required to ensure employees can have private conversations without people outside overhearing them. The architect knew he had to improve the acoustics in these spaces to make them fit for purpose. Heradesign is fitted directly onto the ceiling and two flank walls to provide a high level of sound absorption and insulation, preventing unwanted travelling noise.
The booths have proved to be very popular with staff at London Business School. "Staff really appreciate having private areas for phone calls, thinking time and meetings. The booths are a great asset to the new office and the colours look fabulous."
To find out how Heradesign can add colour and style to your office design email [email protected] or download the Heradesign app for free, at www.heradesign.com.
Categories: