Hoermann Launches D-ribbed and T-ribbed Sectional Garage Doors with Embellishments
Hoermann Middle East has launched D-ribbed and T-ribbed Sectional garage doors with embellishments, for residential homes. Sectional doors open vertically upwards and are suspended under the ceiling to save space. Optimally sealed with flexible and weather-resistant seals on all four sides these sectional garage doors can be fitted in any garage opening and offer up to 14 cm more passage width than up-and-over doors.

To create a harmonious overall appearance, the height of the spaces between the individual panels of Hoermann sectional doors is exactly even. This is achieved by using sections with the same height across the entire door height. The horizontal spacing between the panels within a section is also uniform.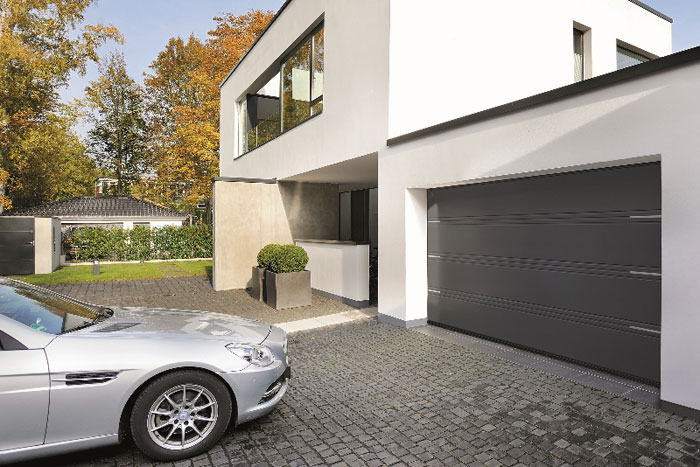 Even spacing and section transitions for ribbed garage doors are distinguished. The sections are shaped so that the transitions are practically invisible when the door is closed.

As standard, the side frames are available with a white Woodgrain surface finish. For sectional doors with the surface finishes Sandgrain, Silkgrain or Decograin, the frame coverings are optionally available in the surface finish of the door section. For Micrograin doors, the frame covering is provided with a smooth Silkgrain surface finish. The fascia panels for these doors always match the surface finish and colour or style of the door section which ensures that everything fits together.

For LPU doors, a flush-fitting fascia panel is the most elegant solution for an invisible transition between the panel and door leaf. A non-brittle, 4 cm plastic frame shoe covers the frame where it is prone to rusting and offers long-term protection against corrosion, even with waterlogging.

According to Darius Khanloo, managing director, Hoermann Middle East, a well-insulated garage door is always recommended when the garage and the home are directly connected. "To further improve the already high insulation values, especially of its LPU sectional door, we have developed the ThermoFrame frame connection, a plastic profile that can be simply fitted together with the door frame. This feature in sectional doors is exclusive to Hoermann."

The UV-resistant synthetic foil coating on the exterior of the steel panels has all the aesthetics of timber or an elegant metallic appearance in Anthracite. Thanks to a special surface protection, the 6 Decograin decors remain attractive for a long time.

Endorsing more security, when the garage door is closed, the anti-lift kit automatically engages in the operator boom's stop, then locks immediately and is secured against forced opening.
Categories: