Hoermann launches new designs in Sliding Gates
Hoermann Middle East has launched a new series of sliding gates in sophisticated designs for the discerning consumer. The ideal protection for wide passages, Hoermann sliding gates made of stable steel profiles are delivered as a complete element with an opening width of up to 16 m. With a sophisticated design, the sliding gates' construction is self-supporting with high security standards, and completely pre-assembled.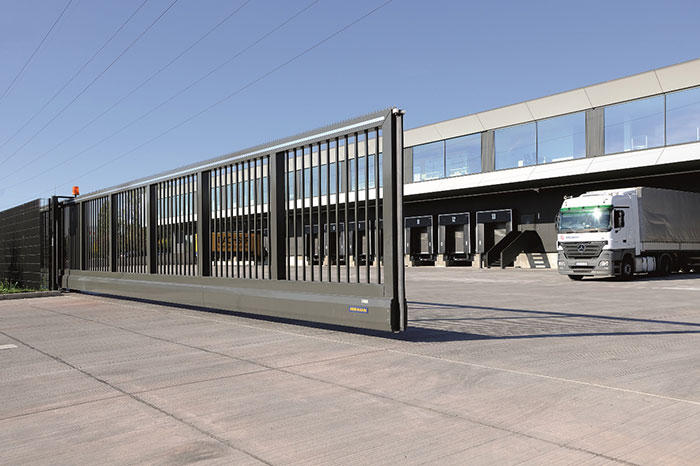 The refined design of the new sliding gates possess numerous benefits, including very little foundation work, no guide rail fitting and no gate travel malfunctions due to heavy soiling. The pre-tensioning of the gates' lead design limits distortion as it is always optimally aligned. A tension element allows the height of the front edge to be corrected retroactively. The gate leaf is precisely positioned at the entrance for optimization.

The sliding gates come in four standard types, the HSS-a basic version with a door width of up to 9m, the HS- an individual version with door width of up to 16m, the HS Alu- a basic version with a door width of up to 13m and then the HS BF with on-site infill and individual design with a door width of up to 10m.

Hoermann's sliding gate HSS consists of high-quality individual components and requires a comparatively low investment sum. The HSS sliding gate offers a convenient package at a streamlined price and fits beautifully and harmoniously into your premises. It seamlessly matches to the standards of sliding gate HS When it comes to safety and quality.

"The first impression is crucial and our new designs in sliding doors do exactly that. Business associates, visitors and employees immediately get the right impression upon entering or driving into company premises," states Darius Khanloo, managing director, Hoermann Middle East. "This is ensured by the wealth of design options available for this door. Modern customers' demands require customized solutions. Depending on the width of the entrance, the customers can select between four gate types and many accessory variants."

Located on the yard side, the electronic control system is integrated into the post. To carry out maintenance or adjustment work, the front flap must only be unlocked. An individually coded hand transmitter makes opening the sliding gate from the vehicle especially convenient for the drivers in the company vehicle fleet. This is a great advantage for frequently used gates.

The new Hoermann aluminium sliding gate HS Alu is an alternative for large gates. Aluminium guide rollers are attached on the top edge of the gate leaf on both sides of the gate, preventing direct contact between the track rollers and the high-quality gate coating. This preserves the gate's attractive look. With the patented modular design of the bottom beam, gates with a clear passage of up to 13 m can be produced economically. The silver strip gives the heavy-duty doors a distinctive, delicate look. Colour palette based on RAL offers up to seven standard colours as well as special colours available on request.

With automatic control, five self-monitoring closing edge safety devices stop the gate instantly even on encountering the slightest resistance. This ensures the highest safety standards for persons and vehicles.

The Hoermann Group
The Hoermann Group is a leading provider of doors and gates with more than 15 Million produced since its founding in 1935. In some 27 specialized factories across Europe, North America and Asia, Hoermann develops and produces quality gates, garage doors, industrial doors, hinged doors, fire resistant doors, loading equipment, frames, operators etc. for residential, commercial and industrial purposes.

The Headquarters of the international Hoermann Group is located in Steinhagen in Germany.

The family company has recently reached an annual turnover of more than 1 billion Euros and employs more than 6000 people worldwide. It gathers some 80 independent sales offices in more than 30 countries and hundreds of official distributors across a few others, which makes our products available to our customer around the globe.

Hoermann set up its 100% own subsidiary in 2009 in Jebel Ali Free Zone in Dubai and is responsible for the entire Middle Eastern region. For more information about Hoermann products and activities, please visit our website at www.hormann.ae.
Categories: