Hörmann Automatic Sectional Garage Doors
Enjoy the benefits of engineering excellence

You will feel it the first time you operate your new garage door: The decision for more beauty, safety and convenience was exactly right.

Choose from an array of options to match the architecture of your home and enjoy the quality experience. All doors are equipped with a door operator that is virtually maintenance-free and provides you with the latest in engineering excellence.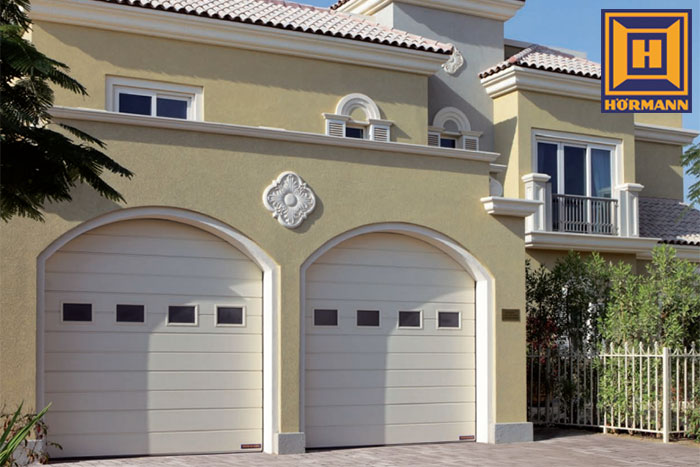 Hörmann M-ribbed sectional garage doors are engineered in Germany, and assembled in the U.A.E. The doors come as a complete package that includes panels, tracks, torsion spring assembly, fitting material and an operator with hand transmitters.

Complying with current CE standards, and thanks to the uncompromising quality as well as highest technical standards of Hörmann products, receive a 10 year warranty on all Hörmann sectional garage doors and a 2 year warranty on all Hörmann operators.

Colour choice
Our colours are polyester-primer coated on hot galvanised steel with a woodgrain embossment. The durable finish allows for minor scratches to be repaired without leaving any visible sign of damage, and largely prevents dust and dirt from settling. The outside of the door comes in the colour of your choice while the inside is Grey White (RAL 9002), stucco textured.

Your choice of glazings
Incorporate glazing to give your garage an individual look or to match the architectural style of your home. The DURATEC® synthetic double glazing in Hörmann's sectional doors is exceptionally resistant to scratches even after repeated washing and heavy use.

Maintenance-free quality door operator
For your own safety, security and convenience, all of our sectional garage doors come with a door operator, photocell and hand transmitter. It is virtually maintenance-free. Our highly sensitive closing edge safety device and the additional photocell protects homeowners from accidents and prevents damage to property.
Categories:
08 11 00 - Metal Doors and Frames