Hormann establishes 4,800sqm production line in JAFZA
Hormann, one of the world's largest producers of industrial, commercial and residential doors, celebrated the company's 10 years of operations in the Middle East with the opening of a new 4,800 square meter production line in JAFZA. With a capacity to produce 35,000 doors a year, the new facility will redefine Hormann's operations in the region.

H.E. Muhammed Al- Muallem, CEO, JAFZA officially opened the production line in the presence of Martin Hormann, Managing Partner of Hormann; Darius Khanloo, Director Middle East & Africa, Hormann Middle East & Africa; VIP guests and employees.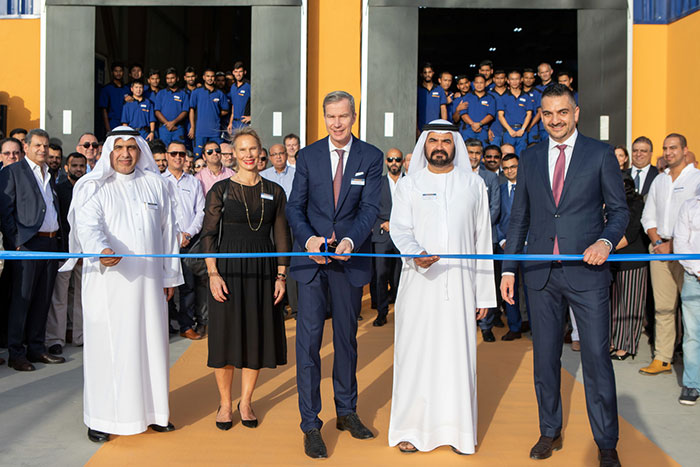 According to Martin Hormann, Managing Partner of Hormann, "With the opening of our new production facility, we will now have more flexibility with delivery time, it usually takes six weeks if ordered directly from Germany and now it will only take about a week. Our JAFZA factory can produce hinged doors, such as fire-rated doors, security doors, internal doors and multi-purpose doors, all based on German standards. Our doors meet the requirements of regional Civil Defense authorities as safety of our customers is very important to us. All Hörmann factories employ the most advanced technology. Microprocessor-controlled machinery guarantees the accuracy of all of the production processes, while stringent in-house monitoring ensures consistently high product quality."

The new production line will serve the demand from all GCC countries and Africa. It also enables Hormann to customize doors for regional customers promptly. In the last 10 years of operations in the region, Hormann has provided its products and services to many prestigious projects such as Bvlgari Hotel (Dubai), Louvre Museum (Abu Dhabi), showrooms of Lamborghini, Porsche and BMW in Dubai, and those of Nissan (Sharjah), Lexus (Ras Al Khaimah) and Jeep (Abu Dhabi), Coca Cola (Riyadh), Mars Chocolate Factory (Dubai), Royal Clock Tower (Makka), Porsche Showroom (Nairobi) and others.

With Hormann fire-rated doors, customers are assured of decades of quality, protection and safety. Offering both exquisite appearance and optimum fire protection Hormann doors are used in industrial and public buildings, villas, apartment compounds, hospitals and at airports.

According to Hormann, "Many Middle Eastern cities like Dubai, are a popular destination for luxury retail brands, automotive and hospitality companies and with upcoming events like Dubai Expo 2020, we think this trend will continue and we look forward to being part of many new projects. Our new production line is a sign of our commitment to this region, we believe in this market and we are excited to be part of its growth. Our employee numbers have increased from 1 to 80 since 2008. We have experienced double digit growth every year since the last 10 years and expect further growth in the coming years."

Categories: