About Aluminum Composite Panels
Aluminum Composite Panels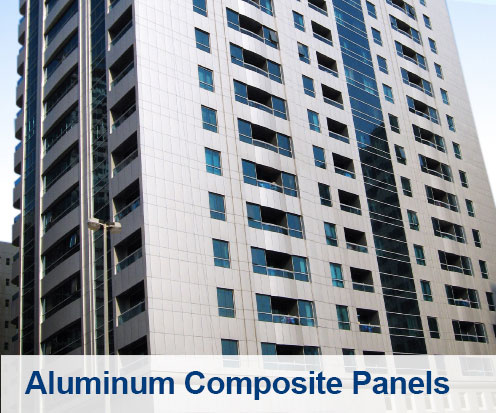 Interplast, a primary member of Harwal Group is a leading manufacturer of many innovative products in the GCC for the construction industry that include electrical cable management systems, wiring accessories, architectural claddings, window & door systems, fences, garden storage sheds and more.
Aluminium Composite Panels, Alupex, manufactured by Interplast is a unique and versatile fire retardant cladding material used in enhancing new trends of modern architecture. With a life expectancy of over 20 years, the panels offer easy installation and provide smooth surface and attractive finishes. With superior strength to weight ratio, Alupex reduces heat and sound transmission.
Alupex is manufactured with the state-of the-art technology of multi-layer extrusion lamination where two skins of non-corrosive special grade aluminum sheets are bonded on to the non-toxic polyethylene thermoplastic or a fire retardant mineral core to form a sandwich panel. The external skin surface is available in various finishes and colors made from PVDF paint coatings. The external surface is further protected by an easy-to-peel protective film for the panels to maintain its superior exterior finish.
Aluminum composite panels manufactured by Interplast are fire retardant. A non-combustible fire retardant mineral core conforming to CLASS 0 (BS476), which is certified by European testing laboratories is used to manufacture Alupex. The product range also includes panels with stone finish available in attractive colors and patterns.
Today, Alupex products are available in 13 types of metallic finishes, 19 types of Solid Colors and 6 Stone Patterns as a standard range. In addition Alupex panels are also offered in Mirror and Brushed Metal finishes replacing conventionally used Stainless Steel and Mild Steel panels in the various cladding applications.
The standard panel widths available are 1000mm, 1250mm and 1500mm whereas the lengths offered are from 2400mm up to 6000mm. However for optimum space utilization for exports we recommend panels lengths to be either a combination of 2400 and 3200mm or single length of 5000mm.
Our standard product range is offered with a guarantee up to 20 years depending up on the specifications and colour finishes for all-weather-condition from hot and humid of the Middle East to extreme cold and dry weather of other continents.
We can also offer custom colors and specifications depending upon the minimum order quantity of 2000 sq. meter.

07 40 00 - Roofing and Siding Panels
07 41 00 - Roof Panels
07 42 00 - Wall Panels
07 44 00 - Faced Panels
07 46 00 - Siding