Italian flair from the Middle East arrives in Clerkenwell
Bagno Design, subsidiary of the market leading Dubai-based Sanipex Group, has unveiled its first ever facility in the UK with a stunning new A & D (Architectural & Design) Centre in London. Launch events are taking place over three consecutive evenings - 20 to 22 August, each with a different cultural theme, to celebrate the launch and formally introduce the Bagno Design brand(s) to customers, press and partners in the UK market.
Strategically located in Clerkenwell, at the heart of London's design district, the new 4,200 sq ft. bathroom showroom presents a 'toolkit' for architects, designers and other professional specifiers working on a wide range of international projects. In addition to Bagno Design's own inspirational product range, there are complementary products from a selection of hand-picked strategic partners. Displays are arranged over two floors, with the 1st floor appealing more to interior designers and the Ground floor geared towards the design and technical requirements of architects.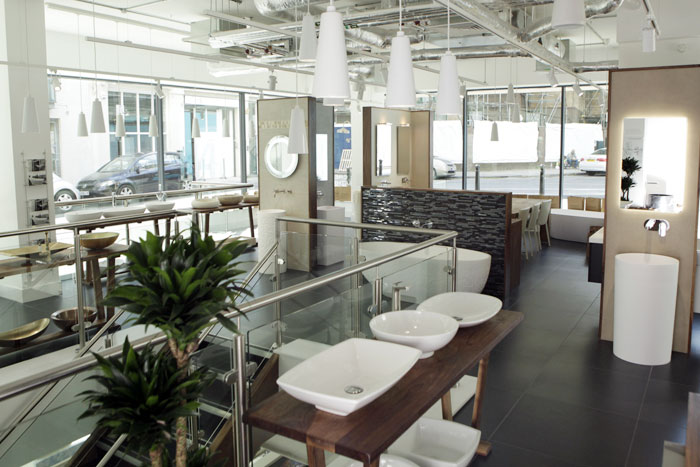 The A & D Centre concept was launched in Qatar in May 2012 and, following this success, has rolled out to London, where it offers a range of valuable facilities for project professionals. These include work stations and meeting tables for designers to meet with their clients, a complimentary drinks and coffee bar, a mock-up room for trialing hotel bathroom schemes and a conference room with a large, wall-mounted screen for presentations and 'Skyping' overseas project team members. A key to Bagno's success over the years has been a focus on customer relationships rather than customer transactions and this is apparent from the warm welcome extended by the UK team along with the generous facilties provided.
Established in Dubai in 1994 as a Middle East representiative for a handful of European manufacturer's, Sanipex today conducts business in over 30 countries across 4 continents, and represents over 50 of the world's leading brands including its own highly successful Bagno Design and Aquazone brands. There are currently over 15 Bagno Design showrooms across the Middle East, Central and South Asia. The newly launched A & D Centre at 31 Pear Tree Street, Clerkenwell is the first Bagno Design facility to open its doors in the UK.
Another key success factor in the rapid growth of Sanipex, throughout the economic downturn, is a unique three channels to market approach: project, retail and wholesale. The specification team works with the architects and designers on product selection before passing it to the retail sales team at the relevant showroom location. Post Sales and Logistics teams ensure the products are delivered to site when the client wants them, technical teams provide installation support and once the project is live, our retail team or local partner provide ongoing operational support. This ability to work with clients throughout every stage of the project, is not only excellent customer service, it also ensures that the original vsion for the project is maintained and delivered.
Plans are underway to replicate this successful model in the UK. In 2011, warehousing and distribution facilities were established near Leeds and, from September 2012, Bagno Design product will be distributed throughout a network of retail showrooms across the UK.