Jeddah Cable Company Unveiling Specialized Range of Rubber Cables
As Saudi Arabia and GCC modernises, industrialises and implements infrastructural improvements across the region, power provision becomes increasingly vital to the region's prosperity. These advancement impulses for the wide range of technological advanced and specialized products to meet the requirements.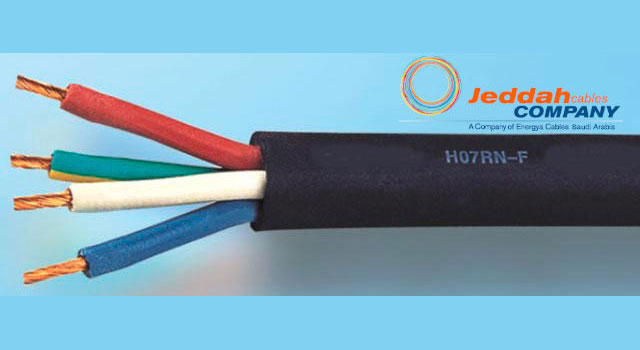 We Jeddah Cables Company and Energya Cables Saudi Arabia take this pride by announcing the launch of our new specialized range of Rubber Cables - a pioneering development for the Middle Eastern and North Africa region. As a leading cable manufacturer and innovator for cable products for an array of applications; this is a major advancement for us as well as for the region to welcome the locally produced full range of Rubber Cables.
This specialized product range results from two years of persistent R&D by Jeddah Cables Company Engineering Projects Team, led by Mr. Mohamad Said Minkara and the collaboration with the other departments in addition, the top management support represented by the Managing Director Mr. Mohamad Itani and the company vision and strategy.
The successful outcome of the project has been based on fundamental market researches, studies analyzing market demand for this product carefully and is supplicated by the GCC and North Africa Countries rapid growth in population and energy demand, these Rubber Cables are produced in compliance with worldwide cable standards and according to the most rigorous product quality & modern cable machinery from precision fabrication company, as well working in close partnership with multi-national and worldwide rubber material supplier in the field.
Since, Jeddah Cables Company and Energya Cables Saudi Arabia is a trusted partner to many of Saudi Arabia and GCC's biggest players in the electrical sector – as well as representing the source of many of the innovations poised to propel the region forwards in its indefatigable quest for modernisation. The company's activities have been reinvigorated by the introduction of its new specialized range of Rubber Cables – not only due to its status as the pioneering of this kind in Saudi Arabia, but also because it is among v few such companies operating this range of cables in the entire MENA Region. This, combined with a number of other factors, ensures that the company is able to face marketplace challenges with intrinsic optimism.
This recent introduction of Specialized Rubber Cables range into our already ever growing product ranges truly boosted the company's reputation as a pioneer and market leader.
Rubber Cables Range inJeddah Cables Company:
Jeddah Cables Company and Energya Cables Saudi Arabia offers a spectrum of solutions to market, reflective of the investments and growth that have led to its prominent position today. Our products are fabricated in full compliance with international standards, and we are capable of manufacturing to the exact specifications and requirements of our clients.
Our Rubber cables are designed to provide high flexibility and have the capacity to withstand weather,
oils/greases, mechanical and thermal stresses with incomparable long term performance.
Standards:
The Range of Rubber cables are manufactured according to IEC 60502-1 (0.6/1 kV), ICEA S-95-658: 2009 (0.6/1 KV), BS EN 50525-2-21: 2011 (450/750 V), BS EN 50525-2-81, IEC 60245 series (450/750 V) other applicable International standards and Customer specifications & requirements.
Design Characteristics:

Voltage Ratings: Building Wires (450/750 V) and Low voltage (0.6/1 KV)
Size: 1.5 mm2 up to 1000 mm2
Conductor: Single and Multi Core AL or Cu, Stranded class 2 or flexible Copper conductor Class 5
Insulation and Jacketing: Normal Rubber or Heavy duty Rubber with flame and oil resistant material upon customer request
Applications:
Our Rubber cables are designed for dry and damp places, where it can be used in industrial installations, oil & gas sector, windmills, agricultural installations, industrial workshops, mobile motors, power
generator, railways, agricultural tools and plants, clear water plants etc.