New websites for Jeddah Cable Company and Energya Cables-Saudi Arabia
Jeddah Cable Company is one of leading cable manufacturer and innovator of wide range of cable products. More than two decade of experience in designing and manufacturing complex cable configuration has equipped JCC with the right tools to tackle virtually any application.
Revamping the Company image, in line with its customer focus and ease of accessibility JCC & EC-SA is pleased to announce that our new websites has officially launched with Web addresses of www.jeddah-cables.com for JCC Brand and www.energya-cables.com for Energya Brand, also in addition to Cables Business website for Plastics compounding products is also going to be launched by Dec-2013 with web address www.energya-plastics.com. We have completely redesigned our layout with simplicity, user friendly, and a strong attention on customer focus in mind.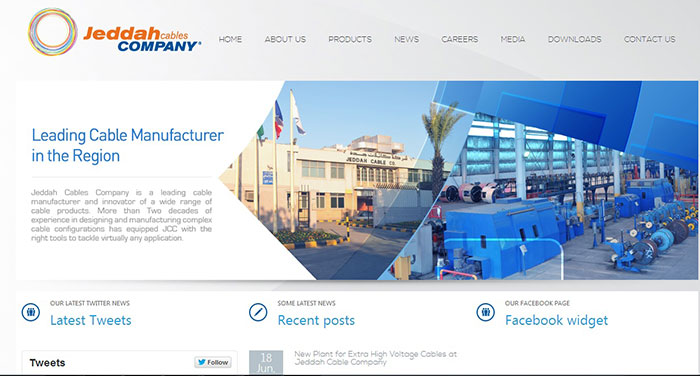 Advantages of the new website includes a more robust page layout, easy navigation, more detailed information about our products and an easier way for customers to find regional Sales branches, submit inquires and product requests online.
Design and Navigation
The design of the web pages and the structure of information have been changed to improve overview and usability. In addition to the changed design and layout of the pages, new features have been instigated in this such as the site contains integrated social media buttons for Facebook, Twitter and Media to foster improved communication with our clients.
Improved Product Pages
Our current and prospective clients will find detailed information about the products and services we offer in the PRODUCTS section. The presentation of the products in the Products section has been improved with more information and an optimized navigation structure.
The interactive Products section gives users an intuitive and easy way to access products of their choice place them in the Cart and generate an online inquiry which will be directed to related sales office and representatives.
The ABOUT US area will give information on our momentous history, range of our products/services and an outlook of our certifications and credentials.
Since, by moving to a more industry/client-centric layout, allows customer's direct access to the information they need based on their own choice rather than sifting through endless products and information to decide what fits their specific needs and choices.
"The new website is just the beginning of Jeddah Cable Company concerted effort to improve user experience, streamline product specification and educate customers on our products while giving us a vehicle for better communication and interaction with customers," said Mohammad EID Chmaitilli, JCC and EC-SA Marketing Director.
We truly hope you enjoy exploring our new website, and please feel free to send us comments or feedback you may have.
Categories: