Kalwall's Clearspan Skyroofs and Structures High-Performance Translucent Daylighting Systems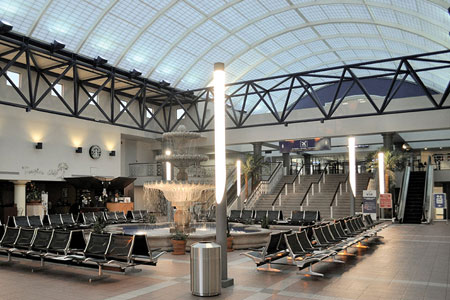 The sky is the limit when lightweight panel systems combine with aluminum box beams to form a total composite system, pre-engineered and delivered from a single-source. Monolithic, structural enclosures with clearspans of over 100 feet. Systems can be canopies, monumental skylights or entire free-standing buildings with aluminum structures by our strategic partner Structures Unlimited, Inc.

LARGE-SCALE DAYLIGHTING:

Taking the Kalwall sandwich panel technology to another dimension… the marriage of aluminum box beams and Kalwall panels into a monolithic, highly engineered, structural space enclosure.


Variety of designs, unequaled by any other daylighting system.


Design control, fabrication, delivery and complete installation for the ultimate in single-source responsibility!


Installations competed in weeks — not months — due to component standardizations and design technology.


Complete buildings, including Pool Enclosures, featuring non-corrosion and moisture resistance built in.


Thermal-break technology for the ultimate condensation control.


LEED® contribution.


Kalwall 100TM flat panels are 4" (100mm) thick for applications requiring even more structural integrity. U-values from 0.08 to 0.15 Btu/hr/ft2/°F (0.30 W/m2K), R-13 to R-6.


Super-insulating, light-transmitting Kalwall+ Lumira® aerogel are panels infilled with the latest iteration of this space-age super insulating translucent aerogel from R-20 panel with U-value of 0.05 Btu/hr/ft2/°F (0.30 W/m2K) with 20% light transmission.


Special application and national building code-compliant. Following are just a few of the codes and standards applying to some Kalwall Translucent Clearspan and Skyroof Systems:




ASTM E1886 and E1996 Hurricane Standards, including flying debris cannon test per the Florida Building Code.
ASTM E331 Water Penetration.
ASTM E283-91 Air Leakage.
ASTM E330-90 Structural Performance.
ICC-ES AC 177 compliant.
Seismic code and OSHA compliant.
Optional extra-high impact faces withstand extraordinary impact forces in accordance with UL 972 standards.
A thermoset FRP/aluminum composite that will not melt, Kalwall panels have many optional fire reaction capabilities.
About Kalwall Corporation
Kalwall is the most highly insulating, diffuse light-transmitting, structural composite technology in the world. The company has perfected a unique composite fenestration sandwich panel that combines controlled, usable, natural daylight with the ultimate in energy efficiency. Lightweight, shatterproof, and rapidly installed, Kalwall has unrivaled structural integrity.
Kalwall can be all or part of the walls or roof of any building or be an entire freestanding structure. Typical configurations and systems include Wall/Window Systems, Skylights, Clearspan™ Skylights/Skyroof®, Walkways/Canopies, Window Replacements, and Complete Structures.
Categories: