About Pre-engineered Skyroofs
Pre-engineered Skyroofs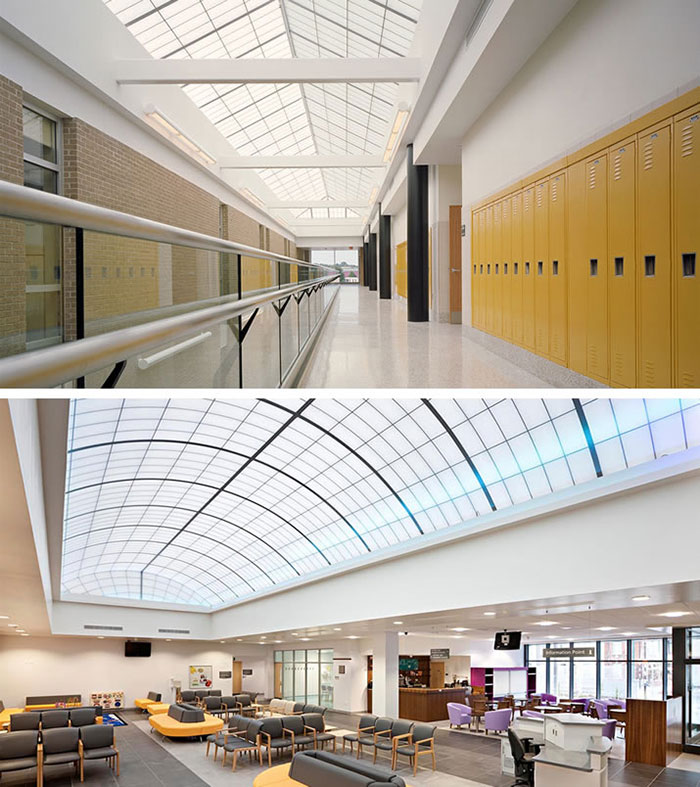 Kalwall offers a wide range of pre-engineered skyroofs including: shed Roofs, ridge Roofs, pyramids, barrel vaults, low-profile vaults. Our panels are so lightweight compared to glass, at less than 3 lbs/ft2, support framing requirements are minimized. Only thrust-bearing curbs designed to accommodate local live, snow and wind load designs are required. Clearspans up to 24′ are possible, depending on load and slope, without additional support framing. Our rugged skylights are all mansafe and OSHA fall thru compliant, meaning no safety cages required, another cost savings. Centerline, self-supporting ridge skylights with 20°, 27°, 33°, or 45° slope to 24′. Our Kalcurve® 180° and low-profile 90° come in one foot curb width increments.

Freedom High School | Bethlehem, PA | Architecture First Architects & Planners | Steven Wolfe Photography

Picture 1: A self supporting ridge roof is always a good solution for clear spans up to +/-20' wide depending on design criteria. In theory, there's almost no limit to the length of these skyroofs. Standard panel modules are 4' and 5'. Custom panel widths are available in any size up to 5 feet.

Loxford Polyclinic | Ilford, UK | Devereux Architects

Picture 2: Kalwall's 90° and 180° Kalcurve skyroofs offer an elegant and efficient design solution where a curved aesthetic is required. Endwalls can be either glass or translucent.

Brochures | Specifications | CAD details
News archive:
Kalwall's Clearspan Skyroofs and Structures High-Performance Translucent Daylighting Systems (26 Feb 2015)
08 60 00 - Roof Windows and Skylights
08 61 00 - Roof Windows
08 62 00 - Unit Skylights
08 63 00 - Metal-Framed Skylights