KE Outdoor Design Focuses on Hygiene and Safety and Introduces KE Cool & Safe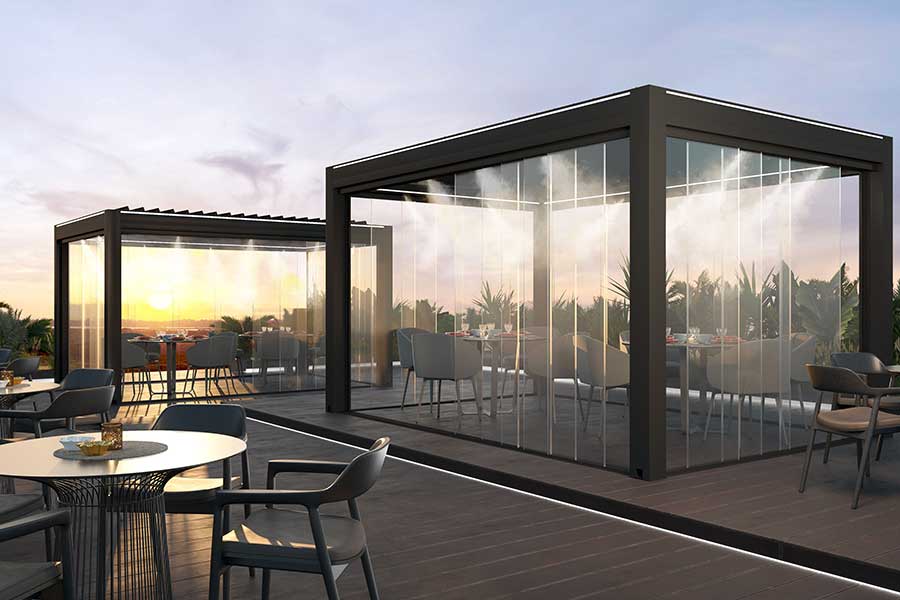 The request for an ever-greater guarantee of hygiene and sanitization of surfaces and environments is a topic to which we are particularly sensitive today. Never as in this period, clean and protected spaces are essential to be sure of enjoying outdoor spaces in total safety, for the protection of one's family or customers and patrons.

KE is ready to respond to these needs with an innovative solution: KE COOL & SAFE, an integrated misting system created for two of the main pergolas models of the GENNIUS range.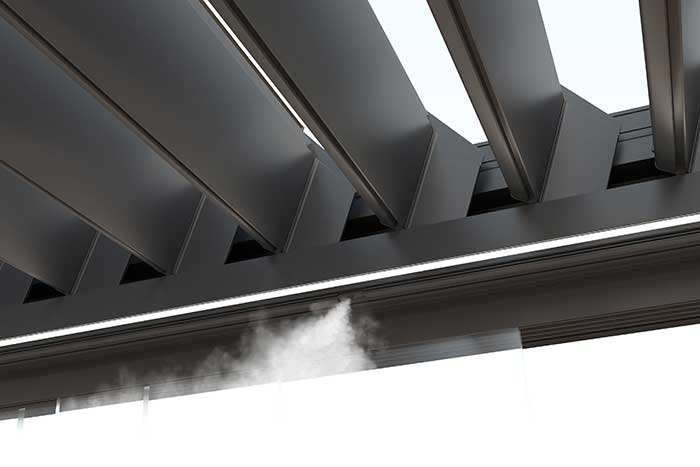 Available as an optional for the bioclimatic Kedry Prime and Isola 3 with low roof, KE COOL & SAFE combines multiple new functions:

COOLING: allows to pressurize the water by means of a high-pressure pumping system, creating - through special nozzles - an ultra-fine mist that allows a drop in temperature in the affected area;

SANITIZATION: by pressurizing a mixture of water and hydrogen peroxide by means of the same high-pressure pumping system, it is possible to sanitize rooms and surfaces, as well as the pergola itself, if it is equipped with side closings;

ESSENCE VAPORIZER / ANTI-MOSQUITO PROTECTION: the system is adaptable to pressurize a mixture of water combined with essential oils to create a pleasant relaxing atmosphere. In summer it will be possible to create mixtures with specific oils such as lemongrass that will help keep mosquitoes away.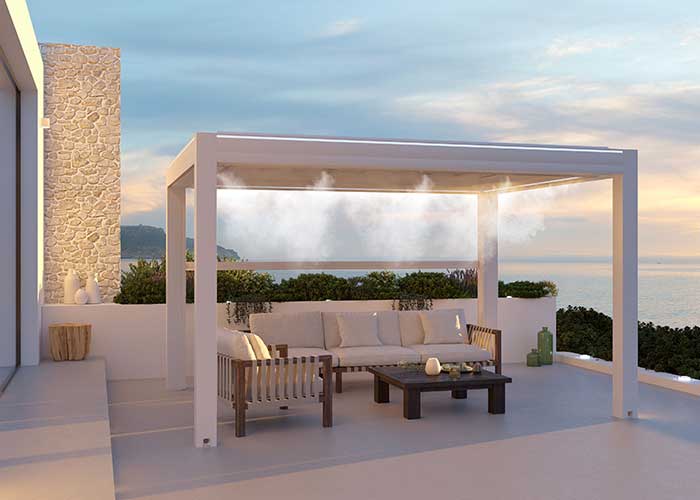 Ideal in convivial environments, both residential and commercial, contract and hospitality, the KE COOL & SAFE system allows, by simply installing the pergolas equipped with this accessory, to have the security of an instant sanitization, as well as always guaranteeing outdoor spaces protected. A new sense of comfort for those who do not want to give up living outdoors as a bespoke wellness space.

@keoutdoordesign #keoutdoordesign