Knauf AMF Launches New Soft Board Product Brand AMF TOPIQ
Relaxing acoustics instead of stressful noise: that's the promise of the new high performance sound absorbers in the AMF TOPIQ product range. Grafenau-based ceiling specialist Knauf AMF has launched an elegant range of acoustic ceiling tiles, allowing architects and planners to create healthy acoustic environments in open plan offices, schools, museums, sports facilities, wellness centres and spas.

From a technological perspective, the soft board product range is based around rock mineral wall panels, which are lined with fabric and finished on all sides. The defining features of the product design are ease of use, moisture resistance and stability. Four different versions are available to meet a wide range of customer requirements in terms of appearance, sound absorption and hygiene: "TOPIQ Prime", "TOPIQ Efficient Pro", "TOPIQ Efficient pro Hygena" and "TOPIC Sonic element".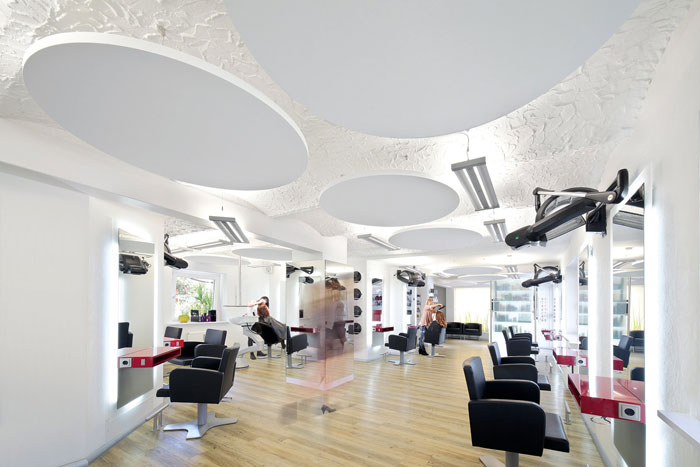 Particularly effective in the frequency range for speech
"TOPIQ Prime" ceiling tiles have a maximum sound absorption coefficient (αw) of 0.95. This means that they convert 95 percent of the sound energy into heat. "They reduce reverberation times, cut noise levels and make it easier to hear what people are saying. These acoustic properties improve the mood of anyone in the room". The ceiling tiles are particularly effective at absorbing sound in the speech-related frequency range of between 250 and 4000 Hz, which makes them suitable for use in any kind of room.
The "TOPIQ Efficient Pro" makes rooms even quieter. The acoustic panels in this version achieve a sound absorption coefficient of 1.0. This means that they absorb 100 per cent of all noise. Despite their lightweight and thin design, they also have respectable longitudinal sound insulation properties. "Once the tiles are installed, they make it harder for flanking sound to spread into adjoining rooms through the ceiling. This is a significant factor when it comes to sound insulation."
Appealing design and highly reflective
The AMF TOPIQ soft board tiles will impress architects with their excellent sound absorption coefficients and A1 reaction to fire according to DIN EN 13501-1, as well as their appealing design: "The lightness of being. The tiles are light and thin, giving them an extremely streamlined and elegant appearance." In line with Knauf AMF quality standards, the tiles are also lined with fleece on both sides, and have a high-quality colour coating on the visible surface and the edges.
The highly reflective acoustic ceiling tiles also have a positive impact on how bright a room is. This makes it easier to use natural and artificial light effectively, and enhances indirect lighting.
No more germs, bacteria and mould
Knauf AMF's "TOPIQ Efficient pro Hygena" version was specifically designed for rooms with stringent moisture resistance requirements and strict hygiene standards. The washable colour coating of these tiles prevents germs, bacteria and mould, making them ideal for food industry, food retail, medical research and bioscience applications.
The ceiling tiles are available in the following dimensions: 600x600 mm, 600x1200 mm and 625x1250 mm.They are easy to install with grid systems and ceiling sub-structures from AMF Ventatec andDONN, which can be configured to suit almost any set of requirements.
Additional design options with suspended ceiling raft
The "TOPIQ Sonic Element" design opens up additional design options. This version is a frame-free ceiling raft with TOPIQ Strong Edge Technology, and is available in an oval, round or square shape. It also helps to optimise the acoustics in a room and can be fixed to the ceiling with stretches of wire
attached to recessed fixing points on the raft. "This makes the wires pretty much invisible and gives you the impression that the ceiling raft is just floating there", said Stefan Königs. "This gives a room a light and pleasant atmosphere." The ceiling raft is 40 millimetres thick and weighs approx. 5.6 kilograms per square metre. It is available in sizes up to 1800x1200 millimetres.
Categories: