About THERMATEX Baffles
Brochures

THERMATEX Baffles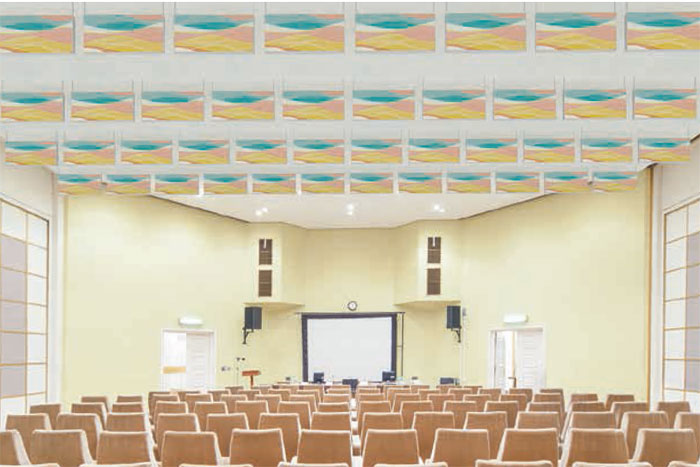 AMF Baffles are a creative solution giving a room effective acoustics, even when the available ceiling and wall surfaces are insufficient for optimal sound absorption.

Especially in modern architecture, the use of glass and concrete mean limited surfaces are available for acoustic use. A baffle system offers a very good possibility to absorb sound and sustainably improve the room acoustics.

The retrospective acoustic optimization of buildings is often very expensive. The installation of a suspended ceiling is not always possible to adjust the room's reverberation time to an acceptable level. Baffle solutions from AMF can be retrofitted quickly and easily and in addition, offer many architectural design possibilities that meet the highest design requirements.

To find the appropriate solution, Knauf AMF architects and designers work in partnership to provide help and advice. A team of trained experts supports clients to find a perfect, quick and easy, retrofittable solution for every room design and acoustic situation.

THERMATEX® Baffle Classic
The fleece-coated, classic, white surface of the THERMATEX® Baffle Classic series unite function with a timeless, simple aesthetic. The system is therefore especially suited to applications where high value is placed on a plain, discreet visual appearance without forgoing optimal room acoustics.


THERMATEX® Baffle Colour
THERMATEX® Baffle Colour offers a large range of design options. The front faced acoustic fleece is available in different colours and can be combined in any way giving every room a unique, distinctive design and fulfilling the highest room acoustic requirements.


THERMATEX® Baffle Exclusive
THERMATEX® Baffle Exclusive products open up a new level of quality in terms of design and aesthetics. The highly absorbent baffle system does not just provide excellent room acoustics, but also offers an almost infinite number of possibilities for lively and modern interior design. The fleece-coated surface decor can be printed to your requirements offering a high degree of individuality and design freedom.
09 22 00 - Supports for Plaster and Gypsum Board
09 50 00 - Ceilings
09 51 00 - Acoustical Ceilings
09 53 00 - Acoustical Ceiling Suspension Assemblies
09 54 00 - Specialty Ceilings
09 56 00 - Textured Ceilings
09 57 00 - Special Function Ceilings