About THERMATEX Sonic
THERMATEX Sonic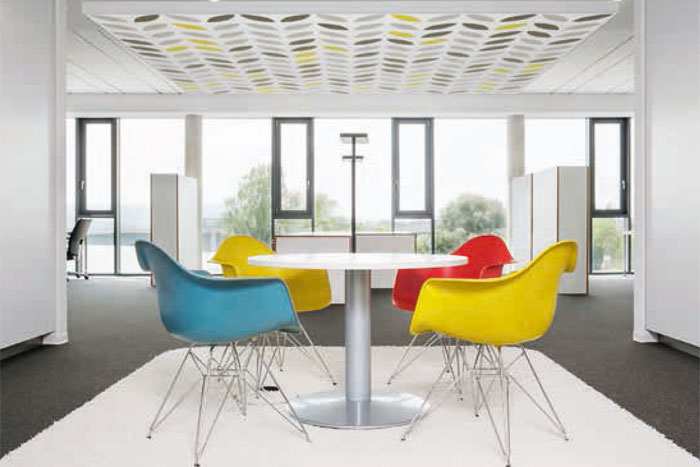 Modern architecture is dominated by hard reflective materials such as glass, steel and concrete and therefore only limited space is available for acoustic purposes. In most cases this is insufficient to provide a room with the optimum acoustics suitable for its function.

THERMATEX® Sonic offers targeted absorption in order to optimize the acoustics of a space. Stainless steel cable hangers give a weightless and elegant impression.


THERMATEX® Sonic Arc
THERMATEX® Sonic arc offers a wide variety of elegant design possibilities through varying layouts of concave and convex elements, available in a variety of colours.

Unique and elegant designs can be created using a varying arrangement of both concave and convex THERMATEX® Sonic arc elements. The selective use of different colours enables contrasting effects. Architects and designers can express unlimited imagination in achieving new room effects.

All ceiling rafts are delivered ready for installation in one piece, guaranteeing simple and quick installation. The flexible stainless steel cables are fully adjustable to enable the desired individual height adjustment.


THERMATEX® Sonic Element
With its frameless and light design, THERMATEX® Sonic element achieves the perfect symbiosis between outstanding acoustics and sophisticated elegance. The choice between round and square elements additionally offers almost unlimited design freedom.

THERMATEX® Sonic element is a mineral, acoustic ceiling raft without a frame! The AMF THERMATEX® base together with the fleece coating of the Acoustic Range, offers the highest sound absorption.

THERMATEX® Sonic element is an excellent way of effectively providing absorption within a room with little material and is ideally suited to solving acoustic problems in a creative and sophisticated way. For applications with high-class, architectural design such as foyers and reception areas, restaurants and modern office environments, THERMATEX® Sonic element is the optimal solution, combining design and acoustics. The recessed fixing points and frameless, monolithic edges accentuate the impression of a floating sail.


THERMATEX® Sonic Modern
THERMATEX® Sonic modern offers the possibility of individual surface design. The ceiling raft is installed with a discreet, aluminium frame, available in different colours.

THERMATEX® Sonic modern is a mineral ceiling raft installed with an aluminium frame. The rafts are delivered ready to install in one piece and can be installed quickly and easily using the hangers provided.

THERMATEX® Sonic modern is delivered as standard with a white, fleece-coated surface, but can also be customised on request with all colours and printed motifs. The special composition of the mineral tile achieves exceptional sound absorption performance.


THERMATEX® Sonic Sky
THERMATEX® Sonic sky is ideal for use in large ceiling areas. The flexible and flat ceiling raft system is available in a wide variety of colours, forms and surfaces. In addition, lights and services can be integrated.

The flexible ceiling raft system THERMATEX® Sonic sky offers architects and designers a high degree of design freedom through its wide range of colours and forms.

The rafts consist of a self-supporting frame fixed to the ceiling with an adjustable suspension system and combined with THERMATEX® ceiling tiles. THERMATEX® Alpha and THERMATEX® Alpha HD with their high quality fleece-coated surfaces, available in a variety of colours are here particularly suitable for use. The sophisticated profile connection system achieves an optimal joint layout and eases installation. Discreet, almost invisible stainless steel cable hangers convey the impression of weightlessness and elegance.
09 22 00 - Supports for Plaster and Gypsum Board
09 50 00 - Ceilings
09 51 00 - Acoustical Ceilings
09 53 00 - Acoustical Ceiling Suspension Assemblies
09 54 00 - Specialty Ceilings
09 57 00 - Special Function Ceilings