About Knauf Metal Profiles
Knauf Metal Profiles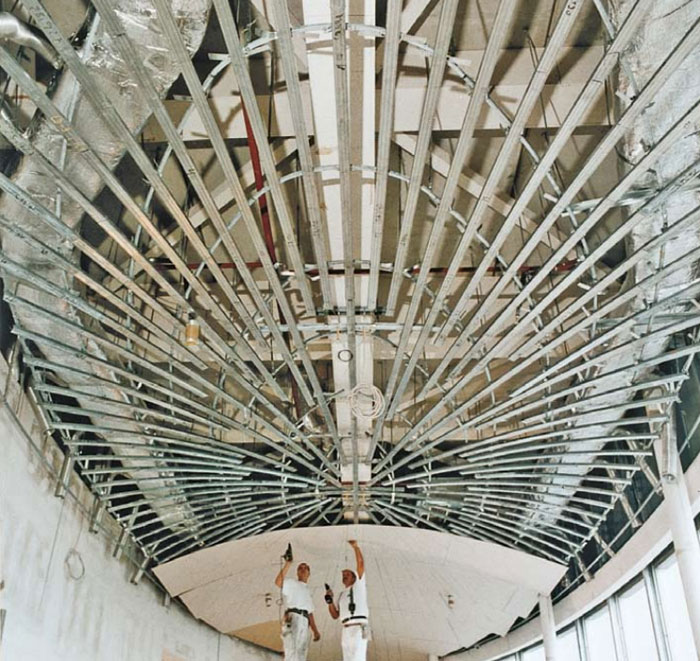 Knauf metal profiles are precision-engineered, high-quality steel sections that are used to form the metal substructure of the Knauf Drywall Systems. All metal sections produced from high-grade hot dip galvanized steel coils with the cold rolled forming process in Knauf R.A.K. FZE factory located in the Emirate of Ras Al Khaimah, UAE.

The main design criteria's for Knauf metal sections are:

Quality: Knauf only works with ISO 9001 certified raw material suppliers to guarantee its steel quality. High grade hot dip galvanized zinc coating (min. Z140 class) provides maximum protection against corrosion.

Rigidity: Knauf profiles produced from sturdy 0.6 mm thick galvanized steel can meet the statical requirement of the most demanding projects.

Simplicity: Minimum amount of accessories and 'twist to fit' studs and channels are designed to make the installer's job as simple as possible.

Compatibility: Knauf metal sections are specially designed to work and perform together with Knauf gypsum boards and accessories to create complete, tested and certified systems.

Variety: A wide range of sizes and options allows designers to find solutions that exactly match their requirements.
09 22 00 - Supports for Plaster and Gypsum Board
09 29 00 - Gypsum Board