KONE Middle East announces KONE Future Elevator Art Contest
KONE, one of the global leaders in the elevator and escalator industry, announces a drawing contest KONE Future Elevator Art Contest, and invites everyone in the United Arab Emirates and Qatar to imagine the future of the people flow by drawing a future elevator.

"Being able to innovate and imagine the future has been one of our success factors throughout the history of KONE," said Noha Kadora, Marketing Specialist at KONE Middle East.

"We believe in nurturing creativity and originality, and are excited to launch this art contest. In the United Arab Emirates and Qatar, many of us take several elevator rides every day, making the elevator an important part, and a facilitator of our daily lives. We look forward to the residents' ideas on what the elevator ride could be like in the future," she continued.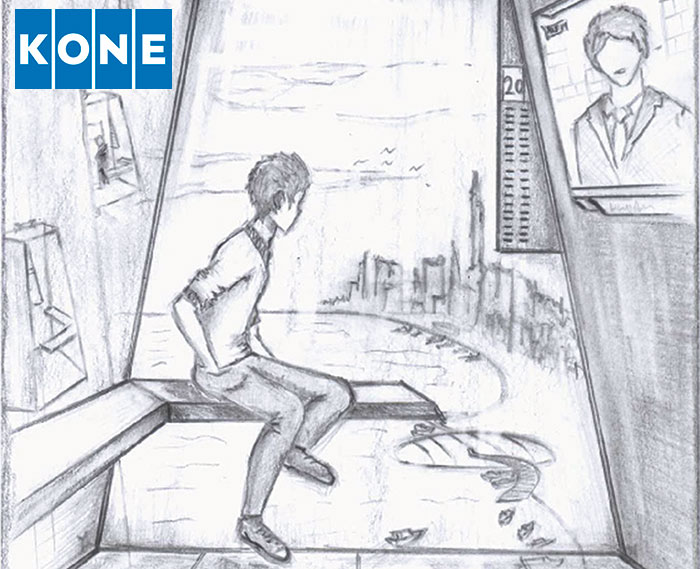 KONE Future Elevator Inside Sketch by Rawan Sonbolli
KONE Future Elevator Art Contest runs from 1st September until 30th September 2014, and is open for all the residents of the U.A.E. and Qatar from children to grandmas and grandpas with all skill levels. The future elevator can be drawn with coloring pencils, crayons, watercolors or markers, or anything else except with the use of digital tools. In addition to fame, glory and KONE gift packs, the artists of the three most creative drawings will be awarded with gift vouchers to Borders or Jarir Bookstore with extensive ranges of drawing materials:
1st prize: Gift voucher of 600 dirhams or riyals,
2nd prize: Gift voucher of 400 dirhams or riyals,
3rd prize: Gift voucher of 200 dirhams or riyals.
The scanned copies of the drawings can be submitted by 30th September 2014 through KONE's website
www.kone.ae/artcontest
. The contest can be followed on KONE Middle East's Facebook page
www.facebook.com/KONEMiddleEast
.
In 2013, KONE Middle East organized a photo contest "Uplifting Views in the U.A.E.", and was in search of photos with beautiful or exciting views from scenic elevators, or amusing views from opening elevator doors