LAMINAM Unveils its New Series of Extra-Large Slabs 1620x3240 mm
LAMINAM, world leader in the production of large-sized, ultra-thin ceramic slabs for architecture, interiors and design, has recently revealed the jewel in the brand's crown, the new series of extra large slabs.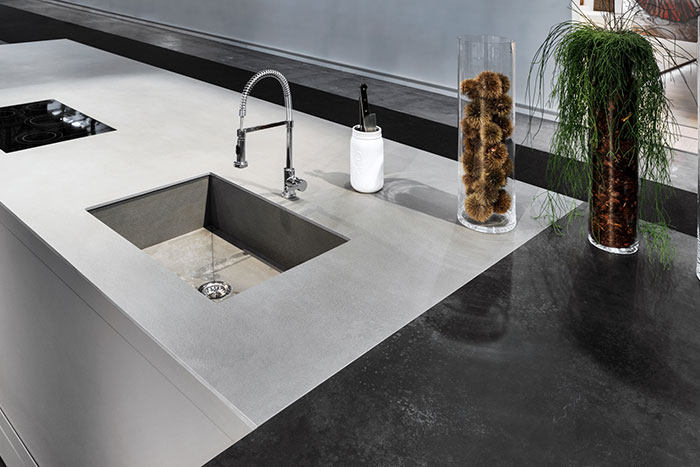 With its turnover growing by 30% thanks to the variable thickness 1000x3000 mm slabs, reaching 40 million EUR in 2014 and in line with the forecasts of 50 million for this year, the company founded in 2001 by Franco Stefani is unstoppable, and ever ready for new challenges and ideas, it is launching a new product on the market, 1620x3240 slabs with thickness 12 mm, hot off the fourth production line which was added to the previous 3 in July 2015.

These new large surfaces, which remain perfectly regular and defect-free even in the oversize versions, are made using the new Gea press system, the strength and beating heart of the Laminam production, with a cutting-edge pressing technology based on the laying of the powders directly on the belt without the use of specific trolleys: the slab therefore has no tension and is free to expand, reducing energy consumption by 50% compared to conventional pressing systems and a production process that recovers all the materials used in the cycle.

Innovation and environmental sustainability thus blend with the creative energy and sophisticated language that marks all of Laminam's collections: for the new extra-large series 5 families of textures have been created, inspired by elements such as concrete, marble, wood, iron and solid beams, in a range of colours with a total of 14 finishes, the evocative power of which is enhanced to the full by the sculptural size of the slab.

Functionally, the new 1620x3240 series increase the freedom of use of the material, further broadening the range of possible applications, targeting both the building sector for ventilated facades, where the larger size reduces the number of joints between the panels and therefore the risk of rainwater infiltration, as well as improving visual continuity, and the furnishing and design sector, particularly that of large, top-of-the-range island kitchens, where these extra-large ceramic slabs offer an alternative to other materials such as marble and stone slabs, which have a higher cost and greater environmental impact.