Luxury and Contemporary Office
Spotless, Bright, and Elegant is how we could describe this stylish and fresh interior design creation by Sicilia Shine from Finesse Art & Design Bureau. The refined work of Sicilia, through an attentive dedication to details, reaches its apogee within this contemporary project, flowing into an inspiring opulent office in the city of Limassol, Cyprus. There is a geometric tempo throughout the design, with straight lines and smooth rounded paths. Boca do Lobo became to be the perfect brand to fit this project since their signature is statement-furniture.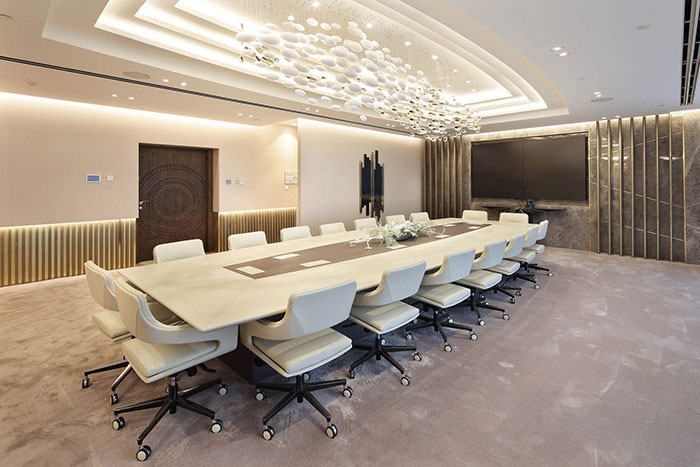 This one-room project has a low and contemporary ceiling, which the designer used to their advantage and gave it an even more luxurious touch with two amazing chandeliers. The clients expressed a desire to have everything in a calm and rich color palette, and the interior designer fulfilled that whish by combining wooden elements, marble tiles, bronze profiles, glass, leather, fabrics, and gold. Entering the office there's a big white conference table from i4 Mariani s.r.l, with a gorgeous chandelier from Sans Souci designed to follow the ceiling's opening structure.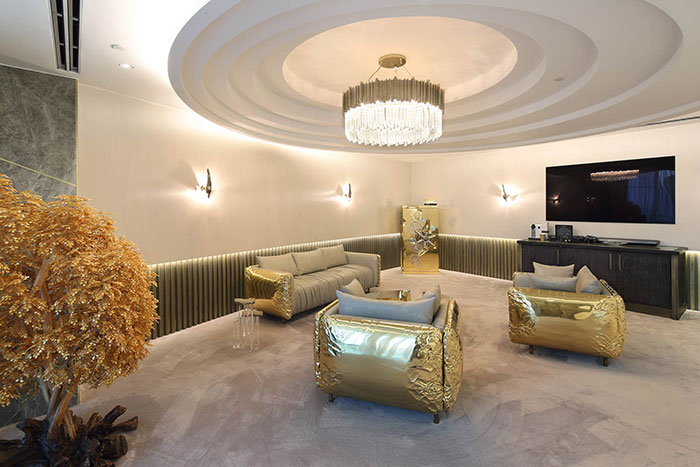 Right beside this area, there's a sitting lounge space. This space is filled with opulent Boca do Lobo furniture, from center table and sofa to the sconces and the side table. Taking center stage, the Lapiaz Center Table brings a sophistication feel to the room and combines perfectly with the Imperfectio Sofa and Imperfectio Armchairs around it, which are the expression of imperfect aesthetic, the appeal of that which is authentic art that is truer to life. The gold and discreet Soleil Sconces on the wall were carefully chosen to combine with this sumptuous scenario, and the Monet Side Table also marks his shy yet gorgeous presence. In the round ceiling, an exuberant chandelier from LUXXU illuminates the space and gives it a classic touch.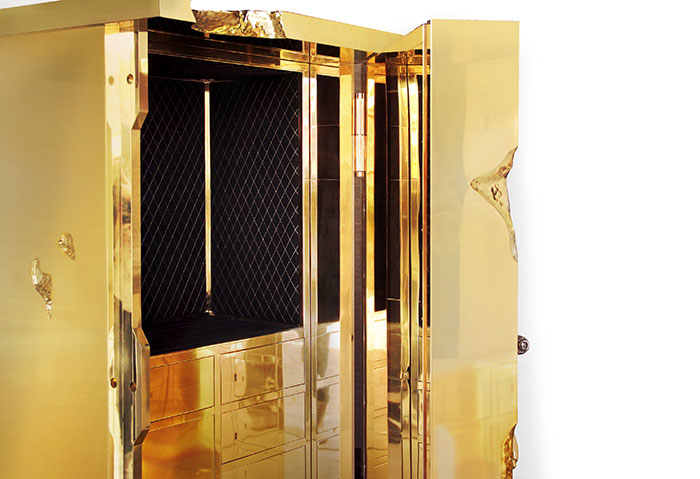 To give an even more luxury sense to this conference meeting room there's an amazing gold luxury safe that is impossible not to be fascinated. Influenced by the California Gold Rush, the Millionaire Safe is also a statement piece by Boca do Lobo designed to cause an impression. Built in a Mahogany structure and gold-plated polished brass frame with several dents, it sparks both interest and imagination reminding the vault robbery attempts in the old west.

Sicilia Shine collaborated on this project with the furniture retailer Deloudis, based in Greece, which in turn provided photographs for this project taken by Christos Papantoniou, a commercial photographer based in Cyprus. She also collaborated with a local carpentry firm P.P Custom Décor to execute all the carpentry works. The architectural lighting was by Delta Lights and it was also installed an automation system by Crestron.

@bocadolobo #bocadolobo
Categories: