Luxury Apartment Facing the Queen's Necklace in Mumbai
ZZ Architects is regarded as one of India's leading architecture and interior design studios. Established in Mumbai by Architects Krupa Zubin and Zubin Zainuddin, ZZ Architects provides extremely high end and bespoke professional architectural and interior design service.

The firm has been pulling in awards by the armful for more than a decade, designing luxurious villas, streamlined corporate towers, residential high-rises and contemporary interiors for restaurants, hotels, retail spaces mansions and private villas.

Their work ranges from the sleek and conservative to the daring and bold, adapting itself, to distinctive needs and environments.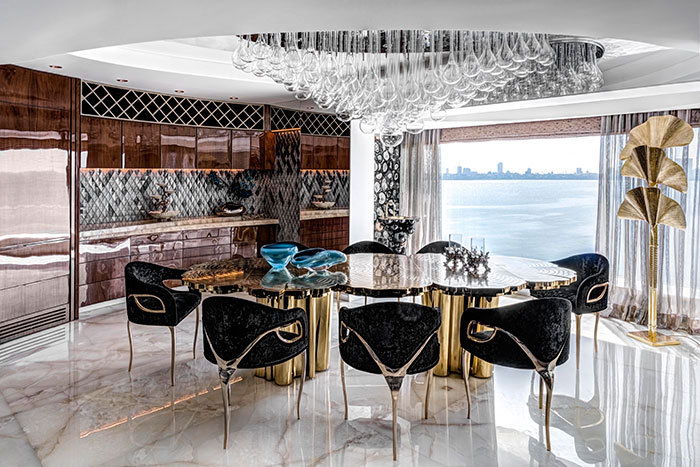 Image Credit: Covet House
With an also impressive repertoire of projects, ranging from Residential to Contract, with a panoply of products ranging from casegoods to bathtubs, and from mid-century to modern classic style, COVET HOUSE and its remarkable brands BOCA DO LOBO, DELIGHTFULL, BRABBU, KOKET, MAISON VALENTINA, CIRCU, LUXXU, ESSENTIAL HOME, RUG'SOCIETY, PULLCAST, and FOOGO were the perfect match to provide the exquisite and elegant designs for this refined project.

The architectural firm focuses on designing extremely high end and large scale innovative and contemporary luxurious homes. These are bespoke and tailored to the tastes and needs of their clients, that's why Covet House customizable pieces were carefully selected for the project.

A fantastic and unique sea-facing apartment in Walkeshwar, India with a spectacular view of the famed Mumbai 'Queens Necklace' coast. Although the overall layout was a typical grid formed apartment layout there was a deliberate attempt to create something out of the ordinary both in terms of layout and then ultimately finishes, producing an eccentric and jaw-dropping final result.

Free-flowing spaces and exploration of curved and sinuous forms create a new spatial typology for apartment design. Special efforts have been made by incorporating large oversized windows with minimum frames to make sure that the view is not obstructed by vertical members of the window frame. The challenge was to make this apartment feel more intimate. The low ceiling heights and structural beams were to be camouflaged so as to make the divisions feel seamless.
@COVETHOUSE_ #COVETHOUSE