About 45/150 Steel Single Skin Panel
45/150 Steel Single Skin Panel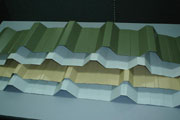 Single Skin Panels are available in variety of thickness, finishes and colors in Aluminum or Steel profile sheets. Single Skin Sheets are recommended for the roofing and the walls of Industrial, commercial and agricultural buildings.
The Panels can be coated with Zinc as well as Aluminum Alloys. Other special coating includes Premier, Polyester. PVF2, Plastisol and ARS. MEI can provide a wide range of colors with reasonable period of time.
07 40 00 - Roofing and Siding Panels
07 41 00 - Roof Panels
07 42 00 - Wall Panels
07 46 00 - Siding

Categories: cladding systems, panels, sheets, 45/150, steel, single skin, roof, roofing, walls.