About Insul PIR
Brochures

Insul PIR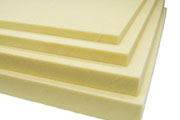 Polyisocyanurate, also referred to as PIR, polyiso, or ISO, is essentially an improvement on polyurethane (PUR). PIR foam is chemically and thermally more stable: Breakdown of isocyanurate bonds is reported to start above 200°C.
Middle East Insulation LLC deals with Prefabricated PIR sandwich panels manufactured with Aluminum or steel facings bonded to a core of PIR foam and used extensively as roofing insulation and vertical walls (e.g. for warehousing, factories, office buildings etc.) and Resolco Insulation LLC uses PIR foams include industrial and commercial pipe insulation.
Besides rigid polyurethane foam (PUR) Resolco also dealing with rigid polyisocyanurate foam (PIR). PUR as a material has some advantages on PIR; it is more flexible and cheaper to produce. Why should we make PIR? For a very important reason: the excellent fire behaviour.
As with PUR foam, PIR foam is made by mixing a polyol blend with an isocyanate and a blowing agent. Rigid PIR differs from PUR in that it is produced using an excess of the isocyanate component. With the appropriate catalyst and production conditions the excess isocyanate reacts with itself to form isocyanurate, which is characterised by greater heat stability.
PIR foams exhibit increased fire performance and reduced combustibility and higher service temperature limits compared to PUR. When incorporated into building products, it can meet some of the most demanding fire performance requirements such as those demanded for typical applications by the insurance companies.
All Resolco PIR foam products have low thermal conductivities (= high insulation values) and can be delivered in diverse densities and dimensions. The PIR foam products are available in densities 35, 40 and 50 kg/m3.