New Gigabit Eco Switch – Quick Installation, Fast Data Transmission
Plug-and-play industrial applications: WAGO's new ETHERNET Eco Switch is ready to use without preconfiguration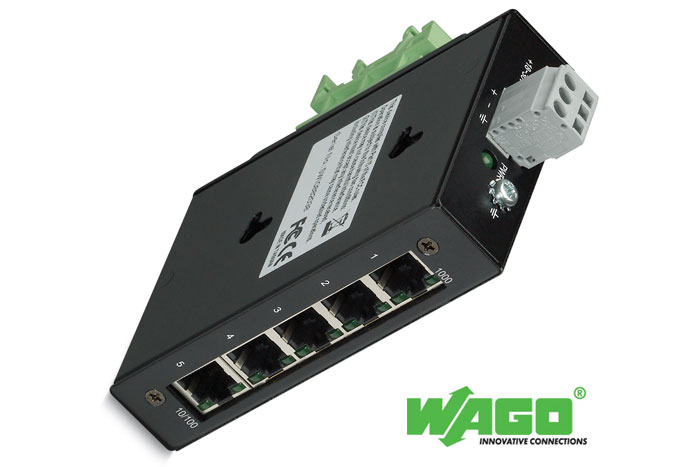 WAGO's Eco Switch (852-1111) is ideal for small and medium-sized data networks, where the primary focus is on usability, rather than extensive management functions. It connects up to five network devices to an ETHERNET network with transmission rates of 10, 100 or 1,000 Mbit/s. The Eco Switch features all standard functions of a network switch, such as automatic data rate adjustment (autonegotiation) or automatic transmit/receive cable detection (Auto-MDIX).
The IP30-rated metal housing (74 x 110 x 24 mm) is designed for space-saving mounting on DIN 35 rails. Up to 2,000 devices can be managed via MAC address list. Full-duplex communication complies with IEEE 802.3x at permissible operating temperatures ranging from 0 to 60°C. Front-panel LEDs permit quick visual on-site diagnostics. Power supply ranges between 18 and 30 VDC. Integrated overvoltage protection provides additional safety.
One gigabit, five ports, no configuration: The IP30-rated Eco Switch (852-1111) is designed for use in small and medium-sized data networks.