New Indiana Wastewater Treatment Plant Specifies Penetron Admix SB
The newly expanded wastewater treatment plant in Carmel, Indiana, was completed in May 2022, after several improvements to the new facility. The new plant now provides the growing community with much-needed treatment capacity. PENETRON ADMIX SB, a crystalline concrete waterproofing admixture, was used to treat concrete structures exposed to the aggressive environment due to the effluent.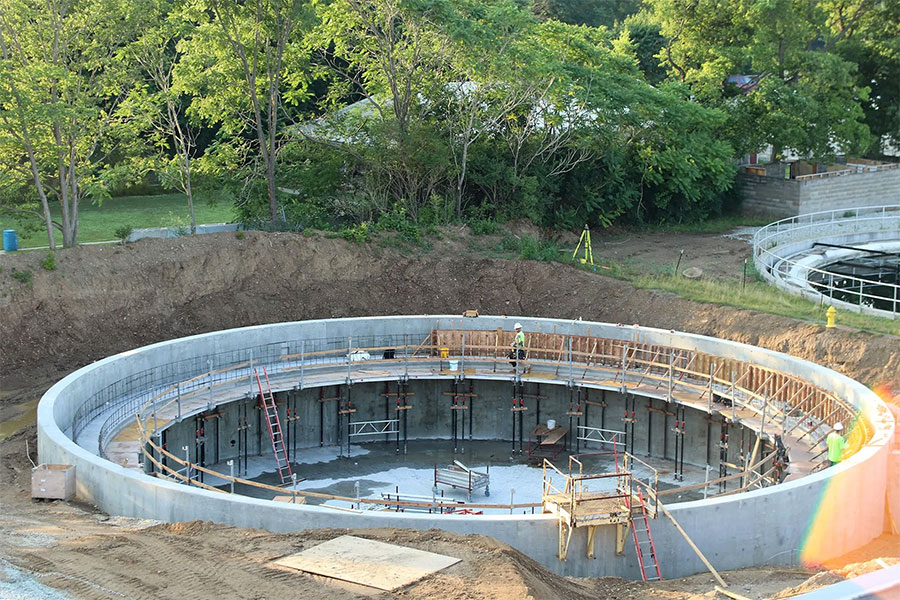 A suburban city immediately north of Indianapolis, Carmel currently has a population of over 100,000 – and continues to grow rapidly. In 2019, the city was rated as one of the "Best Places to Live in America" by Money magazine and other online surveys.

To keep pace with Carmel's continued growth, the city mandated the expansion of its wastewater treatment plant. The structural engineers at Jones & Henry Engineers, contacted imi, the project's ready-mix concrete supplier, for a durable waterproofing solution to protect the new concrete structures from the chlorides, sulfates, nitrates, disinfectants, corrosive compounds, and chemicals typically found in the effluent.

"imi specified PENETRON ADMIX SB as the preferred crystalline waterproofing admixture thanks to the convenient soluble bag packaging to simplify batching, and the concentrated dosage rate," adds Christopher Chen. "It also turned out to be the most cost-effective crystalline waterproofing solution for the Carmel project."

While construction of the newly expanded wastewater treatment plant in Carmel, IN, was completed in late 2021, a number of further enhancements to the plant were finished by the Spring of 2022. Capacity was increased from 12 million gallons per day (MGD) to 14 million gallons per day.

Enhanced Wastewater Treatment Capabilities
The new PENETRON ADMIX-treated concrete elements for the Carmel wastewater treatment plant were poured and formed by Bowen Engineering, and included the addition of two new aeration tanks, and one final clarifier tank, along with the concrete walls and the return-activated sludge splitter. Finally, the additional improvement projects enabled the plant to remove phosphorus biologically or chemically from Carmel's wastewater effluent, which is regulated by the Indiana Department of Environmental Management.
Adding PENETRON ADMIX SB to the concrete mix reduces concrete permeability, which waterproofs the concrete, increases chemical resistance, and enables self-sealing of any new or future hairline cracks to enhance the durability of these key concrete components.
"The concrete waterproofing stage of the Carmel project went well, thanks to the on-site support provided by Penetron and experience gained with similar water treatment projects in the Midwest," adds Christopher Chen.
#penetron #waterproofing #concreterepair
Categories: