Penetron Admix Helps Clean Up the Bay
To ensure durable and impermeable concrete structures, PENETRON crystalline technology was specified for a comprehensive upgrade of the almost 100-year-old Martinsburg Wastewater Treatment Plant in West Virginia. Martinsburg is the latest of numerous PENETRON wastewater treatment plant projects within the Chesapeake Bay watershed.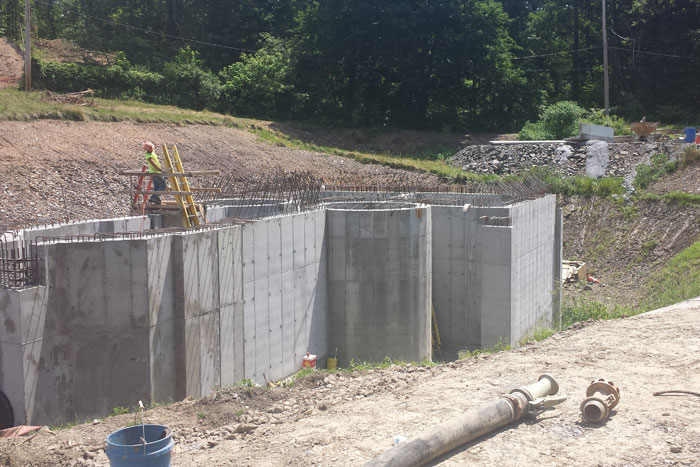 Improved performance with PENETRON ADMIX: The new concrete headworks is a key structure for treating incoming storm water. The structure had to be constantly dewatered or diverted during construction.
Concrete structures that house and facilitate the wastewater treatment process are often exposed to aggressive environments. Concrete used in the headworks, grit collection, tertiary treatment, and digestion and disinfection tanks is exposed to chlorides, sulfates, nitrates, disinfectants and other aggressive compounds originating from the adjacent soils, incoming wastewater or process chemical additions. Crystalline waterproofing admixtures reduce concrete permeability, increase chemical resistance and enable self-sealing of new cracks, enhancing the structural durability of these key infrastructure components in aggressive environments.

"This is why PENETRON ADMIX, a permeability-reducing admixture for hydrostatic conditions (PRAH), has been used successfully in numerous wastewater treatment plants in the Chesapeake Bay watershed, including the Marlay-Taylor (MD), Annapolis (MD), Williamsport (PA), Thurmont (MD), Snow Hill (MD), Orange (VA) and Wilderness (VA) treatment plants," noted Christopher Chen, Director of The PENETRON Group.

Because of the increasingly strict standards for treated wastewater released into the Chesapeake Bay watershed, utility operators have continued to upgrade their plants. The Martinsburg Wastewater Treatment Plant, originally built in 1917 and located on the Tuscarora and Opequon creeks in West Virginia, recently underwent a comprehensive overhaul and upgrade.

Martinsburg initiated the upgrade to help their facility comply with the latest EPA wastewater discharge regulations, specifically for phosphorous and nitrogen nutrients. The $53 million project included the integration of a new Moving Bed Biofilm Reactor (MBBR) system, which is central to the overall process upgrade, and numerous other process improvements, such as the new headworks facility, the primary and secondary clarifiers, effluent polishing system, solids dewatering facility, chemical feed systems, structural demolition and extensive site work.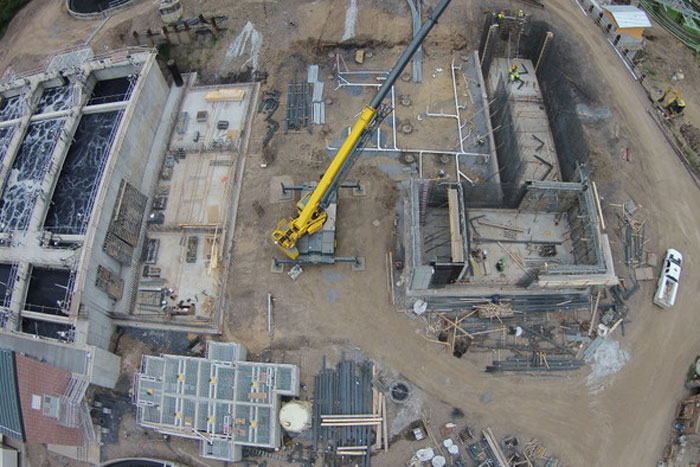 The Utilities Division of HRI, of State College, PA, carried out the plant upgrade as the project's general contractor and was immediately faced with a demanding project timeline, a tight construction site footprint, and the coordination of all the contractors.

"As I saw during my frequent visits to the job site, the real challenge in Martinsburg was the timeframe, replacing half of the plant while still keeping wastewater moving through the process and keeping it in compliance, as well as dealing with flooding that occurred several times during the initial stages of the project," Jeremy Swartzfager, PENETRON Project Manager, said of the phased construction, demolition and renovation work.

PENETRON ADMIX was specified and added to the concrete mix by Thomas Bennett & Hunter during the batching phase. Approximately 7,700 cubic yards (5,900 m3) of concrete were treated with the crystalline admixture and used for the new headworks facility, the MBBR system and the solids dewatering tanks.

The upgrades resulted in substantial drops in the nitrogen and phosphorus levels in the plant's effluent, benefitting the Tuscarora and Opequon creeks, as well as the Potomac River and the Chesapeake Bay. For example, nitrogen levels fell more than 80% from an average of 12,078 pounds per month early last year to 2,206 after the plant went online in November of 2016. Phosphorus dropped from an average 1,043 pounds to 290 in the same timeframe.

EPA Regional Administrator Shawn M. Garvin added, "The major pollution reductions resulting from this new plant will have a significant impact on local waters and the Chesapeake Bay."

Mr. Chen concluded, "The PENETRON System has become an invaluable tool for the design engineer; improving concrete performance, by reducing permeability and increasing the lifespan of these structures, is a result of the increased durability made possible by crystalline technology."