Penetron Crystalline Waterproofing Coating: Case Study on Zara Expo Tunnel, Italy
PENETRON® is a surface-applied, integral crystalline waterproofing material, which waterproofs and protects concrete in-depth. It consists of Portland cement, specially treated quartz sand and a compound of active chemicals. PENETRON® needs only to be mixed with water prior to application.

When PENETRON® is applied to a concrete surface, the active chemicals react with moisture and the by-products of cement hydration to cause a catalytic reaction which generates an insoluble, crystalline structure. These crystals fill the pores and minor shrinkage cracks in the concrete to prevent any further water ingress (even under pressure).

However, PENETRON® will still allow the passage of vapor through the structure (i.e. the concrete will be able to "breathe"). Even after the concrete has cured, PENETRON® remains dormant in the concrete and will reactivate in the presence of moisture to seal capillary tracts and hairline cracks.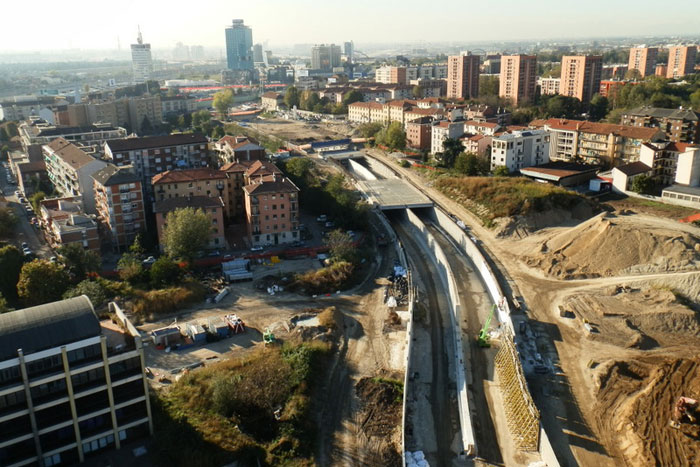 Closer view of the work on the concrete tunnel entry for the Zara-Expo connector, with Milano, Italy on the horizon.
Recommended For:
PENETRON® integral crystalline waterproofing can be applied to all structurally sound concrete – new or old. It may be applied to either the positive or negative sides of the concrete face. Typical areas of application are:
Basement retaining walls
Parking structures
Concrete slabs (floor/roof/balcony, etc.)
Tunnels and subway systems
Construction joints
Foundations
Water retaining structures
Underground vaults
Swimming pools
Sewage and water treatment plants
Channels
Reservoirs
Bridges, dams and roads
Advantages:
Becomes an integral part of the concrete, forming a complete body of strength and durability; PENETRON®
should not be confused with a coating or membrane
Penetrates deeply and seals concrete's capillary tracts and shrinkage cracks
Can be applied from either the positive or negative side
Waterproofing and chemical-resistance properties remain intact even if the surface is damaged
Completely effective against high hydrostatic pressure
More effective overall and less costly than hydrolitic membrane or clay panel systems
Easy to apply, labor-cost effective
Increases concrete's compressive strength
Cannot come apart at the seams, tear or be punctured
Does not require protection during backfilling, placement of steel or wire mesh, and other common procedures
Seals hairline and shrinkage cracks of up to 1/64" (0.4 mm) rather than merely masking or bridging them
Resists chemical attack (pH 3-11 constant contact, pH 2-12 intermittent contact) and provides a range of protection from freeze/thaw cycles, aggressive subsoil waters, sea water, carbonates, chlorides, sulfates and nitrates
Can be applied to moist or "green" concrete
Protects embedded steel (reinforcing steel and wire mesh)
Non-toxic. Approved for potable water applications (NSF 61)
Zero VOC – Penetron powdered products contain zero volatile organic compounds and are safe for use both outdoors and in confined indoor spaces.
ZARA EXPO TUNNEL
The "Zara-Expo" road connector project, which was carried out by the Metropolitana Milanese SpA of Milan, Italy, underwent many changes over the past decade before last month's inauguration. PENETRON crystalline technology was specified to ensure a permanent concrete waterproofing solution.
Description
The "Zara-Expo" road connector links the Via Eritrea in Milan to the EXPO 2015 exhibition area. The new connector also links the Molino Dorino-A8 highway connection with the new Cascina Merlata junction on the A4 that leads to the Lombardy Lake Regions and the Alps to the north.
Products Used:
PENETRON crystalline technology was specified to ensure a permanent concrete waterproofing solution. PENETRON ADMIX was mixed into the concrete during batching to ensure an integral solution with self-healing capabilities that lasts for the life of the concrete.
Categories: