Product news from Middle East Industries.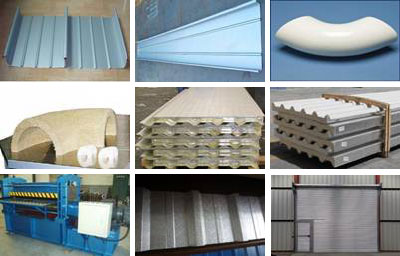 MEI Superseam Roofing System
This product is recognized for it's ease of maintenance, durability and resistance to corrosion. The Standing seam panels are fixed using seaming instead of screws. This will prevent any holes in the system eliminating damp and dust penetration.
The seam fixing is considered flexible enough to allow for thermal movement without problem. The roll forming of panels can be carried out at site to reduce number of joints and overlaps that represent potential hazards to the minimum. It can be supplied with various cover widths such as 65/300, 65/400, 65/500 and 65/600.
Curved and Tapered MEI Superseam
Curved MEI SuperSeam is added to our production capacity. Smooth or crimped curved convex or concave or both can be achieved through our latest curving machines. The curving product is an architectural feature that is used to enhance the appearance of the structure.
It can be produced in the factory or at site and easily fixed. Tapering is also available in the range of MEI SuperSeam products. Starting with 150mm ending at 600mm, it can be left /right or centrally oriented tapering as required.
Curve Insulation Cutting for Elbows
Curve insulation cutting machine has been introduced to our pipe cutting facility used for pipe insulation. Now, Resolco Insulation LLC can produce curved pipes and elbows of different thickness, diameter and curvatures to suit design requirement of pipe insulation and pipe brackets.
Resolco is using the Fire Rated Phenolic insulation to increase much needed fire safety of buildings. Precisely cut radius of elbows for pipe insulation yields better thermal insulation at bend areas, energy saving, reduces fire hazards and smoke. Min. inside dia : 17mm, Max. outside dia : 600mm, Max. radius: 500mm.
Sandwich Panel of Non-Standard size (up to 3.1x12.1m)
A new production line is constructed to assemble sandwich panel of non-standard size (up to 3.1x12.1m) consists of any material, insulation type and profile shape using computerized vacuum-glue technology. Reinforcements and openings can be added to the assembly during the process directly. This convenient addition enhances composite action and strength of the product.
Embossing Machine
Our new embossing machine can stamp colored Aluminum or Steel material with pleasant, random embosses, adding strength and beauty to these material. The embossing will increase the grip between metal's surface and insulation providing better composite action and load resistance.
Up to 4 hrs Fire Rated Rolling Shutters
Due to the persistent requirement of our clients for fire rated products, we are able to accomplish this through our business partner "IRSP" from UK for fire rated and non-fire rated Rolling Shutters. The maximum of 4hrs of fire rating can be achieved with this product.
New Long and Effective Bending Process
A 6 meter bending press is recently added to our collection. The press is used to provide longer pieces reducing connection joints in trims and flashing. Less joints means better protection against water penetration with quicker production and installation process.